What soundboards for Discord are, which soundboards are best for you, and the benefits and drawbacks of using soundboard tools for Discord will all be covered in this post. To make it simple to play certain sound effects when you need them, you may utilize soundboard programs to set hotkeys to the sound effects you commonly use.
Some of the best soundboards for Discord are Resonance, Voicemod, AV Voice Changer, Morphvox Pro, Jingle Palette, Mixer, Podcast Soundboard, Voxal Voice Changer, JN Soundboard, Soundpad.
Before making your choice, i.e., which soundboard is best and which is suitable for you, have to read this article, it will be definitely. To help you in making your decision, go through the article. 
See Also: How To Use iPad As Second Monitor On Windows
The Top Soundboards For Discord
Here are the 10 best soundboards for gaming that you can use for streaming and gaming.
Resanance S

oundboard
Resanance is a popular soundboard application for Discord that you may use.
The program is among the best soundboards since it offers many useful functions. You may program hotkeys to play sound effects quickly.
Resanance also allows you to forego hotkeys in favor of a button deck. You may broadcast audio simultaneously to several devices with Resanance, and you can even manually adjust the volume for each device. Want to learn how to transfer ownership on Discord ? Read this.
Charge: Free
Supports only Windows
Voicemod F

or Discord
Voicemod is the best soundboard for Discord, it allows the end user to change their voice in their way, and most people like it. It continually updates the sound effects gallery and provides a choice of sound effects for you to explore. As a result, your Discord server will always have some fresh sounds to utilize.
In addition, if you like, it also enables you to blend preset and custom soundboard choices. Your Elgato devices can seamlessly connect with Voicemod. Role-playing games benefit greatly from Voicemod since you may customize your voice to whatever you want; voice mod soundboards are currently free of cost. Click here to learn how to stop Ps4 from overheating.
See Also: Best Retropie Optional Packages For 2022
Charge: Free
Supports only Windows
AV Voice Changer
You may use AV Voice Changer as a soundboard for Discord because it is a very strong program and one of the best voice changer soundboards. It makes it an effective tool for voice editing and achieving the ideal voice on Discord. You can modify and alter any component or voice quality using it.
As a result, you can use the AV Voice Changer to alter your voice in a way that suits you. It is also one of the voice changers that is now the most popular and the greatest sound card for a computer. Sometimes your discord mic doesn't work. Fix it before proceeding further.
 Charge: Free
Supports only Windows
See Also: How To Fix Amazon Fire Stick Not Connecting To WiFi [Solved]
Morphvox Pro 
A subscription software called Morphvox Pro is likewise substantially more expensive than the bulk of the other programs on our list.
You may utilize a vast collection of free voices and sound effects included with Morphvox Pro in Discord. Additionally, it has a function that enables you to add your voice or loud background voices when you say something in the background. That can come in handy if you need to convince your buddies that you have an important call to make.
The software is not only specifically designed for gaming, but it also has digital and smart noise reduction settings.
Charge $39.99 to use.
Supports for both Windows, Mac
Jingle Palette 
Jingle Palette, which got its name from its original use in radio stations to play jingles, can now be used as a soundboard tool for Discord and one of the best voice changer soundboards. 
Also, Jingle Palette supports touch play, autorepeat, manual and automatic mixing, and other features. If you'd like, you may also change the volume and loop settings for each sound separately, and currently, it is a free soundboard for Discord. Want to watch Hulu on Firestick TV? Read This.
Charge: Free
Supports only in Windows
See Also: Windows Live Mail Won't Open On Windows 10 [Solved]
Mixere Soundboard 
In the past, Mixere served as a mixer for live performances, like Jingle Palette was designed with radio stations in mind. However, it offers a variety of capabilities that properly suit its purpose as a Discord soundboard. You may play an unlimited number of tracks simultaneously on the app.
Only those looking for a strong program they may use to DJ or play live on their Discord server should consider Mixere, in my opinion. However, those hoping for a straightforward soundboard tool for Discord shouldn't use Mixere. Hotkeys and other features like them are not supported, and the user interface is rather complicated.
Charge: Free
Supports only in Windows
Podcast 
Rather than using shortcuts and hotkeys, customers looking for a more sound deck-like experience may find Podcast Soundboard a nice fit.
The program offers several useful features and an easy-to-use user interface.
As the name implies, this program isn't intended to serve as a soundboard for Discord, but it includes every function you could need. You may use your MIDI keyboard with the program if you like because it supports MIDI devices. Using voice changer for Discord, you can come up with multiple present voices, such as cartoon, robotic, and alien.
Charge: $7.99
Supports both Windows and Mac
See Also: Bypass IPhone Passcode In 4 Quick And Easy Ways
Voxal Voice Changer Soundboard
Voxal Voice Changer soundboard is another voice changer tool you may use to interact with your pals on Discord and have fun. It contains a good voice effects collection, including the usual suspects like a robot, girl, boy, and many others. Voxal's interesting feature is that you may apply these effects to already-existing recordings and your voice being recorded through the microphone in real-time.
Voxal Voice Changer functions on a system level, much like Clownfish, so that you can use it with just about any program on your computer.  Additionally, the makers of Voxal assert that you won't experience any lag because of its minimal CPU utilization in your game frame rates, which is unquestionably a bonus.
Charge: Free
Supports both Windows and Mac
See Also: Top 9 Ways To Fix Samsung Messages Crashing
JN Soundboard
If you're looking for an extremely feature-rich program or a free, open-source software fan, you should give the JN Soundboard app a shot. There is a tonne of features included with this software, including the ability to add, change, and remove custom hotkeys.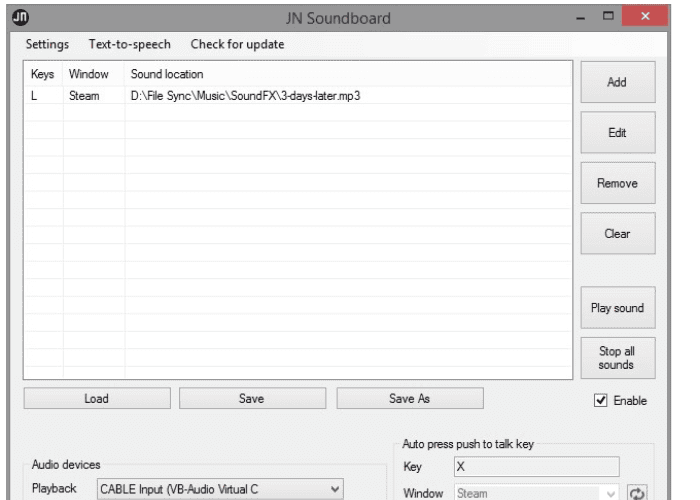 Additionally, you may limit the use of hotkeys to only when a specific program is running in the foreground. The software enables microphone loopback, audio playback over any sound device, and much more. Click here to learn how to use twitch emotes on Discord.
Charge: Free
Supports only Windows
Soundpad For Discord
Check out Soundpad if you don't mind shelling out some cash. Resanance and Soundpad both let you assign hotkeys. Additionally, you receive support for switching the microphone on and off, recording sounds, and creating playback sound lists.
It's interesting to observe that Soundpad views sound decks as sound lists. Resanance is probably a better option if you want a good deck implementation.
See Also: 6 Best Websites To Generate Fake Airline Tickets
FAQs
What are soundboards for Discord?
Users, especially streamers, like a soundboard with Discord to amp up the excitement and alter their voices. When providing comments, you may conceal your voice or include different effects by using a soundboard for Discord. It makes video chats and streaming more entertaining and interesting.
How do soundboards help in changing the voice?
Generally, the sound box's work is to change a person's tone, and streamers, gamers, etc., mainly use it. Soundboards take the person's voice and change their tone so that the receiver might confuse who you are.
Paid soundboards are better than the free ones?
Yes, paid ones are better because they will give you more privacy and are more secure than the normal one's they have more features to explore, But the normal ones are pretty straightforward.
What is a white noise sound?
White noise sound contains all frequencies across the audible sound spectrum in equal measures.
See Also: 10 Best Xbox One Mystery Games Of 2022
Conclusion
Soundboards for Discord are enjoyable and beneficial. By imitating the voice, you might enjoy pretending to be Kratos or, as I would advise, take on the persona of Vader. Discord generates a lot of complications and takes up all storage space. So knowing how to clear the discord cache is a must.
It would help if you looked at some top Minecraft, Valheim, and Among Us Discord servers. Some discord soundboards give users various choices, particularly if they want to stream live while concealing their identity.
Which soundboard app is your favorite? What you use it for should be stated in the comments.
See Also: 6 Best Sega Genesis Emulators In 2022
Nick Pino is the Senior Editor of Home Entertainment at TechiePlus and covers TVs, headphones, speakers, video games, VR and streaming devices. He's written for TechRadar, GamesRadar, Official Xbox Magazine, PC Gamer and other outlets over the last decade, and he has a degree in computer science he's not using if anyone wants it.