Have you subscribed to Spotify Premium? And now want to cancel Spotify membership? Then this article is for you! Learn how to cancel Spotify Premium On iPhone with easy steps.
The Swedish audio streaming and media services app 'Spotify' was launched in 2006, but in the last decade or so has taken the world by storm. As of 2019, it had over 50 million tracks, 450,000 podcast lists, and a whopping 3 billion playlists. With a reach in 79 countries and 354 million monthly active users as of 2022, it became the most downloaded app under the Music category in 2019. And of this huge database, 155 million users have opted for Premium subscriptions.
But that isn't surprising at all! Alongside higher quality audio resolution, the option of unlimited downloads for songs and podcasts, and offline playback, Spotify Premium also liberates users from the single most dreaded hindrance to their audio requirements- advertisements. What's more is that Spotify Premium comes in numerous packages, each designed according to varying user needs and affordability.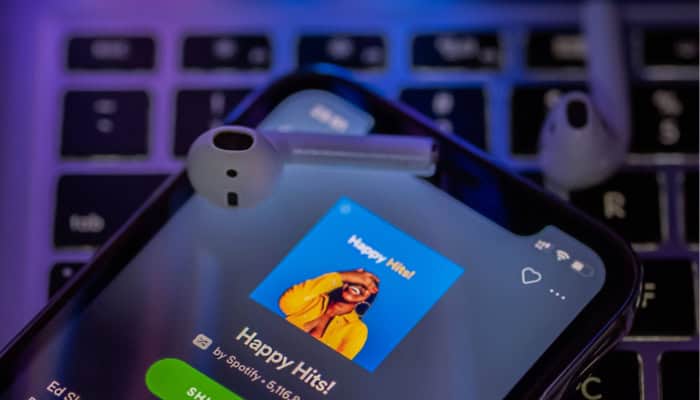 However, many users may want to know how to cancel Spotify Premium on the iPhone app for a multitude of reasons. For example, there are many frequent apps like Apple Music or Google Play Music, their requirements might be streamlined towards apps designed for audiobooks and podcasts specifically. Or they might just find that the price for ad-free, offline audio streaming isn't necessarily worth it. If you're one of them, don't fret! This article will guide you through three super easy ways how to cancel Spotify Premium on iPhone.
Visit: Spotify
How To Cancel Spotify Premium On iPhone?
Now, unfortunately, while you can subscribe to a paid plan directly through the Spotify app, it doesn't allow you to cancel or modify that plan the same way. Nevertheless, there are ways out of it!
See Also: Top 5 Music Making Apps for the Musician Inside You | Latest 2022
Method 1: Through

Settings
The first method to figure out how to cancel Spotify Premium through Apple is doing it from your device's Settings app. If you originally subscribed to Spotify Premium on your iPhone, you can just head over to Settings, tap on iTunes & Apple Store, and then on your Apple ID. You will receive a prompt in which you'll have to enter your Apple ID password or touch ID.
Once you do that, you can scroll to the bottom until you see the Subscriptions section. If you tap on that, you will be able to see all of your subscriptions, including your Spotify Premium. Tap on it, select the 'Turn Off Automatic Renewal' option, and there you have it! Your Spotify Premium subscription has been canceled.
Method 2: From App Store
This is the second method explaining how to cancel Spotify Subscription on iPhone. If you cannot access the 'Subscriptions' section through your Settings app, you cancel your subscription is through the App Store. For this, you have to open the App Store and head towards your profile picture, located at the top right corner of the screen. Once you tap on your profile picture, you need to locate and tap on 'Subscriptions.'
Under the 'Active' section, you will find your Spotify Premium subscription. From there, you can tap Cancel Subscription. A dialogue box will show up, And once you tap on Confirm, your Premium subscription will be cancelled.
See Also: Top 5 Websites for Downloading Free Ringtones for iPhone
Method 3: Through Your Browser
Finally, you can also cancel your Spotify Premium via the Spotify website. On your iPhone's or any other iOS device's home screen, you have to open any internet browser, such as Safari, Google Chrome, etc., and navigate to Spotify's website. Once you are on the website, you can log into the Premium subscription account you wish to cancel by entering your login ID and password.
By doing so, you will see your account info page. After that keep scrolling down, you will find the 'Your Plan' section. Click on that, and select the 'Change Plan' option offered right below your payment information.
When the page opens, you can see all the plan options that Spotify offers. Scroll down to the bottom until you see Spotify Free. Just below it, you will find the option to cancel your Premium subscription. Click on it, confirm it on the pop-up that will appear. And it will redirect you to a Spotify Free account.
Even after cancelling your subscription, you will still be able to access Spotify Premium for the remainder of the duration that you have already paid for, be it a week, month, or year. So, for instance, if your Spotify Premium membership is scheduled to be renewed on July 1st, and you cancel your subscription on June 15th. You can continue to use all the perks of a Premium subscription for an easy two weeks! 
See Also: How to Find IP Address on Mac in 5 Simple Ways
Method 4: Through iTunes
The second method to know how to cancel Spotify premium on iPhone requires you to cancel your subscription through iTunes.
Go to the 'Settings' application on the phone.  
Then select the iTunes and App Store.
You will see your Apple ID on top of the screen. Tap on your ID. There you need to select the View Apple ID option. If asked or required, you would have to fill up your Apple ID and password. Touch security users can tap on the home screen for Touch ID. 
Scroll down, and there you will find the option of subscriptions. Select it. Among your other subscription plans, a Spotify subscription will also be visible. 
Select the 'Spotify subscription' option, and towards the bottom, the cancel subscription option will be seen. Tap on it, and click on the confirm option that will pop up. 
It would successfully cancel your subscription after the completion of your billing cycle.
Method 5: Deleting the Account
The next step to cancel Spotify premium on iPhone involves closing down your Account altogether to cancel the subscription. 
Firstly, open any web browser from your phone, be it Chrome, Safari, or anything else. Click on this link, which would open the required page directly-  https://support.spotify.com/us/close-account. 
Now you must log in to your Spotify account.
As you scroll down, you will see an option at the bottom right corner in blue colour, called 'Close account.' Click on that option.
Then it would help if you verified your credentials and whether you are deleting the correct Account. Click on the checkbox which says, 'I understand and still want to close my account.' Click on the 'Continue' option at the bottom right corner.
Then It would send a verification link to your email address which will verify whether you are deleting your Account at your will. Open your emails, and select the mail sent by Spotify. Click on the 'Close my Account' option mentioned in the mail.
Your Account has been deleted, which automatically implies the cancellation of your subscription. Yet, a unique feature provided by Spotify allows an individual to reactive their Account in case one changes their mind.
See Also: The Top 6 Chinese Music Apps in 2022
Can I Reactivate my Spotify Premium?
You most definitely can! All your playlists, and settings from your Premium account, will be retained by Spotify for the first three months after you unsubscribe to Premium. So if you ever decide to return to Spotify Premium within that duration, you will be able to access your Premium account just the way you left it. 
After three months, you will still be able to subscribe to Spotify Premium should you ever choose to do so. But your previous Premium account's data will be lost.
Conclusion
Should you ever choose to close your Spotify account through the Spotify website, your Premium subscription will automatically be deactivated. However, you will simultaneously end up losing all your playlists as well as your username permanently. So I'd recommend using one of the three methods listed above if you ever want to return to free audio streaming and no hassle of monthly payments. 
We hope we have helped you in unsubscribing from Spotify Premium. Let us know if there are any other methods we need to include in this "How to cancel Spotify Premium on iPhone" guide. So that we can provide you with more relevant content!
See Also: 6 Best Audio Enhancer Tools For Windows in 2022
Carrie-Ann Skinner is Smart Home & Appliances Editor at TechiePlus, and has more than two decades experience in both online and print journalism, with 13 years of that spent covering all-things tech. Carrie specializes in smart home devices such as smart plugs and smart lights, as well as large and small appliances including vacuum cleaners, air fryers, and blenders.