With the series of smart speakers and upcoming gadgets of home technology, Amazon has become the world's leading tech-savvy platform. As a result, users eventually discover better ways of managing anything from daily chores to busy routines. In this article, we will compare the three Amazon speakers echo vs dot vs tap.
Amazon successfully innovating the decade's most popular smart speakers has brought about a revolution in technology. So now, the question is 'have these smart speakers become an essential household part?'. Yes, mostly because it helps manage everything just with voice commands and a combination of connected devices.
But yes! With the wide range of available options, the problem with this expanded smart speaker range is that users seldom find it difficult to make the right choice, as each of them possesses stellar features. Here's a comparison between the three best smart speakers from Amazon – echo vs dot vs tap models. Let's see how each one is stack up against one another and how they suit user's needs at their best. 
Amazon Echo

 
Dimensions: 148 x 88 x 88 mm
Launched by Amazon in 2016, the Amazon Echo model was the first smart speaker powered by Alexa, Amazon's very own digital assistant.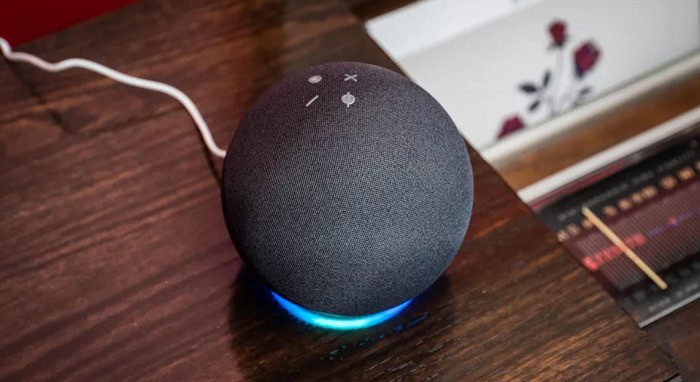 Alexa follows voice commands to carry out functions like playing songs, recording a schedule, controlling electronic devices, and responding to user questions.
Features

 
Amazon Echo's current version is more discreet than its first generation. It is smaller in size and has an aesthetic design.

This beautiful version of Amazon's smart speaker allows its body to blend in with your home decor seamlessly, as it offers stability on every surface.

You get a button that allows you to activate Alexa without calling out the name.

Amazon has replaced the volume dial on the first-generation model with a pair of buttons. 

There is also a mute button that stops Alexa from overhearing everything around.

Setting up Amazon Echo is quite easy-peasy. You need to install the Alexa app.

 
Pros
Easy setup

Less prone to toppling

Enhanced features as compared to its first-generation model

Cheaper as compared to the previous model

Crisp and Clear sound

Attractive appearance

 
Cons
Alexa App bugs not fully resolved

First-time users get confused and struggle while picking the right skills on Echo

You should plug the device into the power source

Sometimes plays output on other Echo devices

 
Visit: Amazon Echo
Amazon Dot
Dimensions: 38 x 84 x 84 mm
If you have decided on trying smart speakers but are discouraged by your budget limits, here's Amazon Dot for you.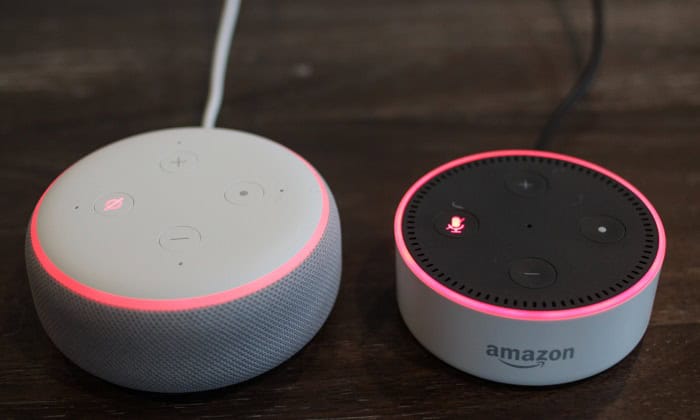 Amazon's Dot model is essentially a smaller version of the Echo. And the price is nearly half the cost of the Echo. Let's see how Amazon dot stands out in this echo vs dot vs tap comparison.
Features
Slimmed-down version of the Echo, it's 20 cm smaller in height.

The built-in speaker is slimmed down, allowing you to connect with any other external devices.

It has a 3.5 mm port to plug in an external speaker.

Along with the mute buttons and activate buttons, and this Dot model has no volume ring. The volume gets controlled by two buttons right at the top of the device.

There is a micro-USB port to charge the device

When Alexa is activated and is listening to you, the same light ring lights up 

Setting up the Amazon Dot is the same as it would be with any Wi-Fi-enabled speaker.

 
Pros
Powerful voice recognition

Discrete and small design

Great and useful functionality

Very Affordable pricing

 
Cons
The inbuilt speaker has poor sound quality

You should plug the device into a power source every time

Limited scope for controlling audio output
Visit: Amazon Dot
Amazon Tap

 
Dimensions Provided : 158.5 x 66 X 66 mm
The most premium version of Amazon's smart speakers is this Amazon Tap, with its integrated and best features of newer technologies.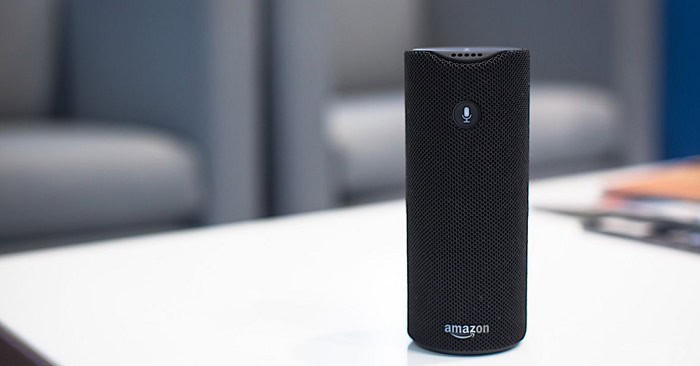 It is more advantage-seeking. It's portable and the best among the competitors. Also powered by Alexa, it allows you to blend your home setup with a solid music experience. Let's see how Amazon Tap stands out in this echo vs dot vs tap comparison.
Features
High-quality portable Bluetooth speaker

Slightly smaller and more sleekly built 

Classy look- Available in a single black color, with no other color or finish options. 

Lighter than the Echo, that why the portability factor is increased.

The exterior design is coated in mesh fabric. 

Its battery has up to 9 hours of battery life with a single charge.

The Bluetooth sync button and power button are on the lower backside. 

The Tap also has a 3.5 mm auxiliary jack as well as a micro-USB port for charging.

 
Pros
Portable

Great battery life

Top Class sound quality

Awesome Bluetooth connectivity

Proper voice recognition
Cons
A bit costlier as compared to other Amazon smart speakers.

Less upgraded version of the Alexa app and less updated skills.

Amazon Tap Price is great and is value for money
Visit: Amazon Tap
Summing Up
Life becomes more sorted, easy, and entertaining with Amazon's smart devices. Hope this article helped you know the difference between echo vs dot vs tap.  Whether you decide to get an Amazon Echo, a Dot, or a Tap, each is a great home technological device. However, there is one thing you need to check for – that the features you and your home require. With these smart devices, you will be bringing home a lot of quality and effectiveness to your complete management skills.
Olivia is TechiePlus's Audio & Music Editor, covering everything from headphones to music streaming services. Based in TechiePlus's London offices, she's a popular music graduate who worked in the music industry before finding her calling in journalism. In her spare time Olivia likes gardening, painting, and hanging with her cat Ethel and golden retriever Dora.