The joy of driving a vehicle on your own without the support of anyone else is the best experience. Do you know how to drive to enjoy that experience of driving? If not, do not worry. Practice driving using driving simulation programs. This article explores the best driver simulator software.
Driving simulator software is handy for beginners in learning. It provides driving simulation, the real experience of driving without being on roads. This will build your confidence to be on-road and make you learn the skills and knowledge required to drive perfectly. It just does not end there. Driver simulator softwares also have other purposes. Let us start by knowing the purpose of getting the best driver simulator software.
Click here to know the best screencasting software for recording and editing videos.
Purpose Of Driver Simulator Software
Firstly, driver simulator software imitates the driving experience by not being on the roads but in your comfort space. It is not only necessary for the driving learning students but also for the engineers who are planning to implement new changes to the vehicle. It helps engineers change not only the design of the vehicle but also the road execution, such as new intelligent highway construction, among many others.
Engineers, driving students, and researchers can use the driver simulator software to research the influence of drugs, alcohol, tobacco, and others on drivers. It is safe you can analyze the outcome thoroughly and not cause any trouble to the people on-road. Don't you think getting a good driver simulator software is helpful for you as well? It is useful, then let us now dive into knowing the best driver simulator software.
Check Out: 5 Best Fan Controlling Software To Improve CPU Performance
Top 4 Driver Simulator Software
In the below section, let us know the best driver simulator software.
Carnetsoft Driving Simulator
Carnetsoft driving software is well-known for its clinical appointment and research driving simulator. It has recently terminated giving driver simulator software for driving schools, secondary schools, or clients who avail driver training programs. But do not worry; research driving software provides the same features as driver simulator software.
Carnetsoft has many special features which will provide the driver with an all-around experience. It has 15 databases such as highway, rural environment, roundabouts, urban environment, and many more. It also provides different climatic experiences, like a heavy breeze, thunderstorms, and heavy traffic, among many others. Vehicle control lessons include reverse parking, gear changing, steering control, and many others. Adding on, it provides right-hand and left-hand driving training along with the rules of many countries such as the UK, India, Netherlands, Australia, etc. It also has a great in-built Student Assessment System that provides a detailed student performance report. 
Visit: Carnetsoft Driving Simulator
Comprehensive Driver Training Software
ECA Group has launched Comprehensive Driver Training Software, the best driver simulator. It is the best because it gives simultaneous commands to the driver, which feels naturalistic. The virtual narrator will provide the lessons as instructions, either verbally or in written format, and walks through all the exercises. Along with this, they also offer icon feedback to the driver.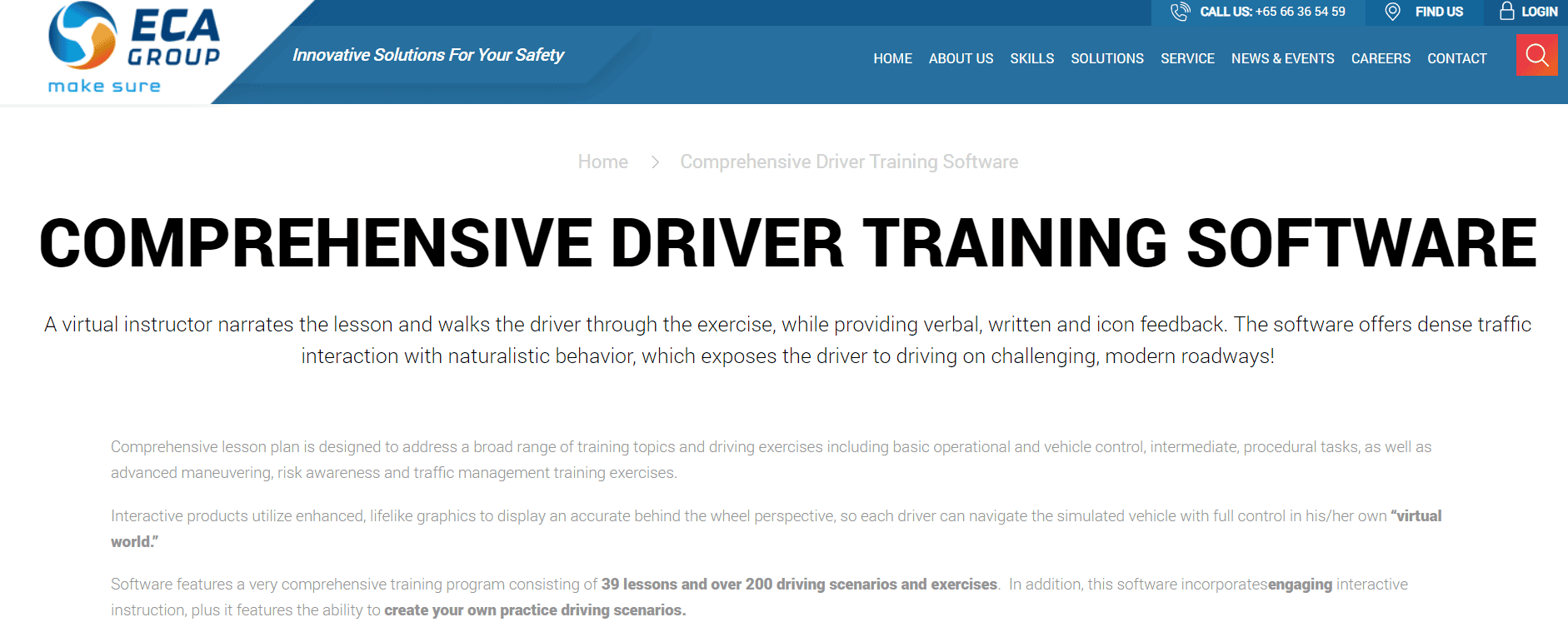 Comprehensive Driver Training Software provides 39 lessons and 200+ driving scenarios, ranging from basic, intermediate, and advanced. Driving in bad weather such as snowfall, rain, and the heavy breeze is difficult, but they have also made it easier by imbibing it in the software. Traffic is another such instance; it enables driver training in low, medium, and dense traffic situations. Not only provides training in different circumstances and when your neighboring vehicles are tough to tackle, such as SUVs, vans, ambulances, and others. The best feature is that it provides multi-view replay and a 360-degree view.
Visit: Comprehensive Driver Training Software
See also: How To Buy A Plane Ticket In 2023 | Complete Guide
ST Software Simulator Systems
Driving rules vary from country to country. But most of the driver simulator softwares may not have specialized software for every country. But ST Software Simulator System has designed softwares for the country based on its changing rules and regulations. It may not have covered all the nations, but to date, they have provided superior software in the countries it has covered. These countries include Netherland, Belgium, Australia, Ghana, Egypt, and many more.
ST Software Simulator Systems provides training in other languages, such as Arabic, Dutch, English, German, Spanish, Romanian, and Bulgarian. This is an important prospect because if you learn in your local language, you learn fast and with your heart; that is why they also focus on minute details. They provide training for both right-hand drivers as well as left-hand drivers. They are very specific in designing their lessons as well. The total hours required is ten clock hours. But you do not have to do it at a go. The lessons are divided into smaller segments ranging from up to 30 minutes. Initial instructional lessons range only from 5 to 10 minutes. You can also adapt to the timings as and when required based on your necessities. So, this is the best driver simulator software if you want to learn driving skills from basic.
Visit: ST Software Simulator Systems
Tecknotrove Driver Training Simulator
The trend of diesel or petroleum vehicles is reducing daily, but the demand for electronic vehicles is increasing. Do you agree with this? Tecknotrove driver training simulator provides training for both fuels and electric vehicles. They not only support driver training but also provide customizable VR training modules to enhance your experience of practicing to drive. This is very important as the driving practice is a baby step towards learning to drive perfectly.
Tecknotrove Driver Training Simulator also offers onsite driver training services for corporates to provide the common citizens a safe and uninterrupted journey by creating equipped corporate drivers. The driver simulator software provides various softwares such as car driving simulator, commercial truck driving simulator, passenger bus driving simulator, motorcycle driving simulator, ambulance driving simulator, rehab driving simulator, vehicle walkaround inspection, and many others. Their software also provides a replica of real vehicles. It also helps you learn other skills, like improving fuel efficiency, reducing incidents, reducing driver attrition, and improving vehicle performance.
Conclusion
I am hoping that this article has given you an overview of the best driver simulator software. Learned what is a driver simulator software along with the features of the best four driving simulation softwares? I cannot assure you if they are free driving simulation softwares, but obviously, they are worth the value. I am sure you will learn to drive perfectly with the help of this driver software.
See Also: 6 Call Tracking Software To Increase Your Sales In Business
Carrie-Ann Skinner is Smart Home & Appliances Editor at TechiePlus, and has more than two decades experience in both online and print journalism, with 13 years of that spent covering all-things tech. Carrie specializes in smart home devices such as smart plugs and smart lights, as well as large and small appliances including vacuum cleaners, air fryers, and blenders.