Xbox is one of the most sought gaming consoles. But this popularity does not mean it won't come with its issues. One issue is the Xbox shutting off. As a result, users often ask, 'why does my Xbox keep turning off?' In our article, we will explore all the solutions for when Xbox one randomly shuts off.
Some solutions that may help are checking the ventilation, power supply, and console settings, installing new updates, and factory resetting or restarting. These are all internal problems, but the article will also contain solutions that you can apply externally, like checking if your controller is defective. Read the article on how to fix the issue if Snapchat keeps logging you out.
Xbox One X shutting off randomly during a game or otherwise is a common problem faced by users worldwide, and they often wonder, 'why my Xbox keeps turning off?'. Before immediately turning to the support of Xbox, you can try a few things yourself. 
See Also: How To Browse Internet On TCL Smart TV [Complete Guide]
Fixes For – Why Does my Xbox Keep Turning Off?
Here are some of the reasons why your Xbox Turns off on its own by itself.
Not Enough Ventilation for your Xbox
Sometimes, it so happens that your Xbox one may become way too hot because of the constant playing or improper ventilation. This may keep it from starting up properly again. To fix this issue with ventilation, follow the steps given below:
Turn everything off and wait for at least an hour or so.

Place the console in a good and comfortable spot with proper ventilation.

Try turning on your 

Xbox one

 again.
Apart from this, you can take some measures to avoid the question, 'why does my Xbox turn off by itself?': 
Cleaning the Xbox daily allows hot air to move out because of the fan.

Leaving the Xbox alone and not putting any devices around it.

Replacing the thermal paste every couple of years.
See Also: 5 Best Fitness Games For Xbox One | Top Picks
Checking the Power Supply
Xbox consoles need enough power to be able to switch on. This is why checking your power supply is important. Avoid using an external outlet to supply power, like an extension cord. Instead, try plugging your Xbox directly into the main plug. Check out how to write on picture in google docs.
Another way to check if your Xbox gets enough power is by checking the LED on the power brick. If this LED blinks an orange color or is not lit up, the power is not enough. Checking the cord can also work as it can be loosely connected sometimes, leading to your Xbox turning off.
See Also: 10 Best Xbox One Mystery Games Of 2023
Changing the Console Settings
In this solution, the problem regarding 'why does my Xbox keep turning off' lies within the Xbox settings. If the settings are set to turn off automatically, the Xbox can turn off at any time. To prevent the automatic turning off, follow the given steps:
Turn on the console and go to the guide.

Go for the profile and system alternative.

Furthermore, go to settings, then to General, and lastly, go to Power mode and startup.

In this section, you will see 'Options' .'Choose the option that says 'Turn off after, and then 'Don't turn off automatically.

Changing settings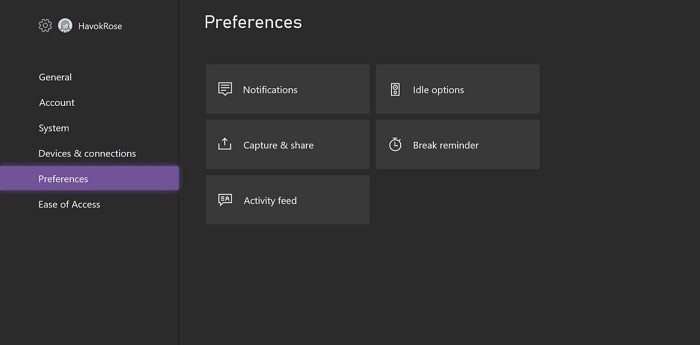 If the Xbox is shutting down repeatedly after you have not used it for some time, you can change the settings to avoid this. 
Go to Settings and then choose Power to go to the next step.
Select the Turn-Off or Restart option and set the time for when you want the Xbox to shut down.
See Also: 6 Best Xbox 360 Singing Games Of 2023
Installing New Updates
Most of the time, people forget to update their Xbox, which leads it to malfunction in some way or the other. Here is the step-by-step on how to update your Xbox to prevent malfunctioning:
Step-by-step guide for Xbox one:
After holding down the Xbox button to go to the main menu, go to 'Settings' and then go to 'All settings.

Select 'System' and select the 'Updates' alternative.

Choose the 'Keep my console up to date option for the Console field. Afterward, choose the 'Keep my games and apps up to date option for the games and apps field.

Furthermore, Xbox one will show you all the steps to follow.
Step-by-step guide for the Xbox Series X:
Make sure to connect your Xbox series X to the net.

Select 'Profile and Systems', select 'Settings,' and then go to 'System.'

Click on 'Updates' so new updates will start downloading.
See Also: How To Change Gamertag On Xbox App For Free [Full Guide]
Factory Resetting the Console
Factory resetting the Xbox is one of the best ways to get your Xbox working again. Here is how to factory reset your Xbox one:
In the home menu of the Xbox one console, choose the option of 'Profile and system,' then 'Settings.'

In 'Settings,' go to 'System' and the option that says 'Console Info.'

Choose the 'Reset console' option, and you will see three more options. You should choose one of these three: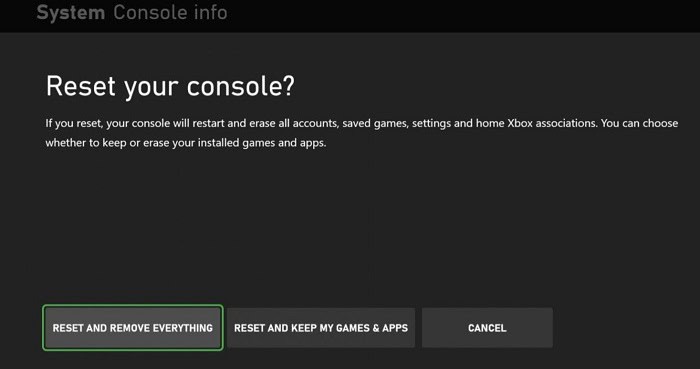 Reset and remove everything: This will clear your Xbox of everything. You will restore your data, games, and apps to factory settings.

Reset and keep my apps and games: Choosing this option will only reset your operating system and delete all the data gone corrupted. Everything else, like your games and apps, will stay safe and sound.

Cancel: If you change your mind anytime, you can select the cancel option to exit safely.
See Also: How To Disassemble Xbox One Controller? (With / Without Torx)
Defective Controller
A defective controller can also be the cause of your Xbox turning off repeatedly. To check whether the controller is working, press the Xbox button. If this trick fails to work, press down on the power button of your console. If this method works, it means there is some problem with the controller, or you must replace the battery. 
See Also: Fix: The Division Error Code Romeo 20310358 – Complete Guide
Power Cycle or Restarting
A power cycle can fix many small issues with the Xbox one. This power cycle method will not remove any data, apps, or saved games. Here is how you can do an effortless power cycle for Xbox one:
Press and hold on to the Xbox button for a few seconds to turn off the console.

Once again, press the Xbox button so the console turns on.
Given below is the step-by-step guide you can follow to restart your Xbox one console:
Press down on the Xbox button and hold it for 10-15 seconds.

Select the alternative that says to Restart the console.
See Also: 6 Best Xbox 360 Motorcycle Games To Play In 2023
FAQs:
Will doing a power cycle erase all of my data?
A power cycle is like a restart, and therefore, it will not remove or uninstall anything from Xbox one. It just powers it. It is used to fix common troubleshooting issues like the Xbox one turning off randomly or while testing the net.
Is there a difference between pulling the power supply and rebooting?
The answer is in the affirmative. Pulling the power supply means cutting off power to your Xbox one. After this, you immediately turn it back on. In a reboot, the entire operating system is started again. In case of issues with the Xbox, you should try pulling the power supply first. If that does not work, you can go with a reboot.
What is the initial and most important thing to do once my Xbox turns off often and over again?
The first check should be the power supply cord or outlet. You must check whether it has sufficient power voltage or if the cable is tightly connected. Another thing to check on is the air vent of the Xbox. Rid the air vent of dust and dirt so it can work properly.
What can I do if no method above works?
After trying even the simplest of troubleshooting methods, you are still not successful; you can always ask Xbox Support for help. Their contact timings are available on the main site. You can chat with them online about the ongoing Xbox issues or call them. They also provide Xbox users with a web chat 24/7.
Conclusion
With these FAQs, our article on the question 'why does my Xbox keep turning off' comes to an end. These fixes are common troubleshooting solutions for when the Xbox keeps switching off. We hope this article was informative and illuminating for you and that these solutions will help fix the issues with your Xbox. 
Check out: Top 9 Ways to Fix Samsung Messages Crashing
Olivia is TechiePlus's all in one Editor, covering everything from headphones to music streaming services. Based in TechiePlus's London offices, she's a popular music graduate who worked in the music industry before finding her calling in journalism. In her spare time Olivia likes gardening, painting, and hanging with her cat Ethel and golden retriever Dora.