There is no denying that technology has changed our lives upside down. With adding superior convenience to our lives, one can not now imagine a life without technology. One of the major additions is voice changer. Remember that Talking Tom app? Yes, the one that was really funny, and we all went crazy for a while. Now imagine being able to do this in real-time and that too multiple voice variations. Yes, you read that right. Using voice changer for Discord, you can come up with multiple present voices, such as cartoon, robotic, and alien. Moreover, they also allow you to manually change your voice by either altering pitch, frequency, and tone. Check this out if your Discord Mic isn't working.
 Voice changers refer to software that can change the present tone or pitch of a user's voice. It can be used to change or record audio and share with other people via email or social media websites like Discord, Skype, Stam, or for Gaming Trolling. Pop over here to know the Best Wearable Voice Changer Gadgets For 2023.
Voice Changer Tools For Discord
 Here are the best voice changer tools you can opt for to experience real-life voice changing for Discord and other platforms:
VoiceMod
VoiceMod is one of the most popular voice changing applications that allows you to change your voice with awesome effects. It modifies your voice online and supports multiple voices like a robot, demon, gender, etc. The famous voice-changing application support numerous famous online games like PUBG and Minecraft. In addition to games, the applications are also great for chatting and streaming software like Discord, Twitch, VRchat, Stream Deck, and Skype. This tool voicemod discord not only provides a myriad of sound effects, but it is a very easy-to-use voice changer for Discord tool.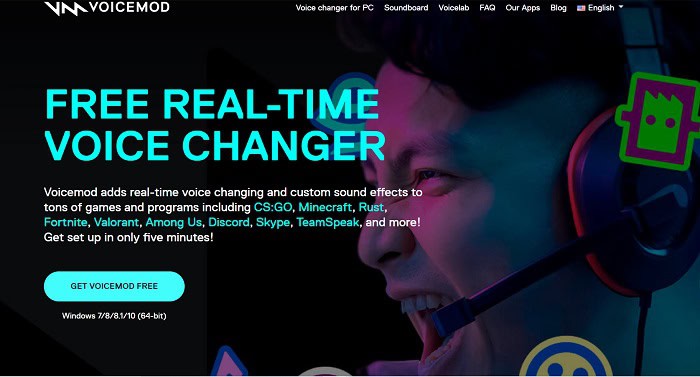 VoiceMod effects after changing the original sound also sound much more natural than often other voice changing tools. The app is surely one to get your hands on.
 Features:
– Upon installation, automatically adds the input of microphones device setting for Discord
– Demos for live voice effects
– Strongly compatible with all modern games and apps
– Free on Windows
 Visit: VoiceMod
 

AV Voice Changer
AV voice modulator for discord software is more like a professional voice changer for Discord that you can leverage for real-life voice changing for audio/video clips, presentations, voice messages, narrations, voice mails, and more. One of the most amazing things about AV is that the software allows you to easily access and modify every characteristic of your voice. With AV, your voice can sound more heavy, robotic, more feminine, masculine, teenage boy, older, and much more. In a nutshell, you are always allowed to record voices that best meet your requirements. Also, the app permits you to record your voice through the computer and make instant adjustments to the voice yourself.
 It is available in three different versions: basic, gold, and diamond. You can choose according to your voice-changing requirements and the budget.
 Features:
– Professional voice modifier for discord
– Create custom sound effects
– Modify every characteristic of your voice
ClownFish
ClownFish is a free multi-platform free voice changer for discord application for Windows users. You can use ClownFish to change your voice in any application on your computer that uses a microphone. With ClownFish, you can change your voice even while chatting on Discord. The most notable supported applications by ClownFish are Skype, Discord, Viber, and TeamSpeak. ClownFish is one of the most popular applications that modify your voice in steam and so works perfectly with all your favorite games. You can generate effects like a robot, alien, male, female, baby, and radio, among others. If you are looking for a  voice changer for Discord, ClownFish might be the one for you.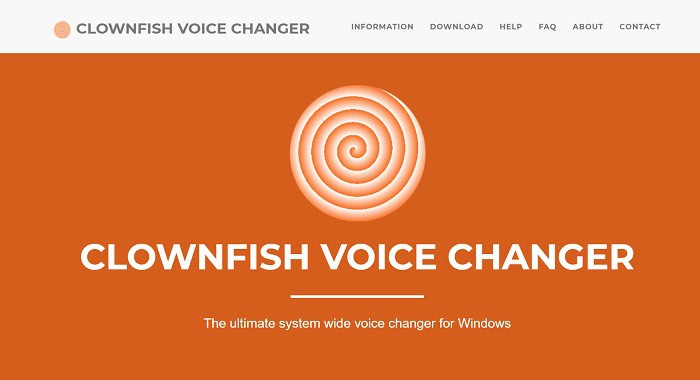 Features:
– Sound player for playing various sounds
– Voice assistant to convert text into speech
– Control and manage your background microphone's music
 Visit: ClownFish
Also See: Websites to download free ringtones for Iphone
MorphVox
MorphVox is also a constantly evolving discord voice modifier tool. It accesses all other tools in this list, mainly to provide crisp voice quality when voice is altered without having to give much burden on the CPU. The audio effects list includes men, women, children, robots, or any of the supported voices. Moreover, you can use this voice-changing tool to change your voice from a woman to a man or vice versa. Aside from its usual voice converting features, MorphVox also offers MP3 reading, restoring files in the same folder, better list management, plug-in support, and multiple user support.

Aside from its technical aspects, the tool is fun and easy to use. You can add additional background voice while you are consciously chatting with your friends online, and this can enhance your gaming experience. You can add as many fantastic numbers as fantastic sound effects in the tool to elevate your overall experience with real-life voice changing, isn't it amazing?
 Features:
– Choose from a myriad of audio effects
– Dispatch sound effects with quick keys
– Ultra-quiet background cancellation
– Highly optimized for high-quality online game streaming
 Visit: MorphVox
Voxal Voice Changer
Voxal comes with powerful voice-changing features. It sells itself as a go-to platform that enables you to change your voice in almost all gaming and chat applications like Discord and Skype. The tools give its users limitless options as a voice changer for Discord. Also, not only does this discord voice changer record voice in real-time, but it also allows you to apply filters to after-changing voices. This voice changer for Discord is a great modulator for Discord. The voice change is highly remarkable with Voxal in that it helps you maintain anonymity when appearing on platforms like radio or podcasts.

 Features:
– Huge library for sound effects
– Universal settings for all appliances
– Use for real-time voice effects
– Low CPU usage
 Visit: Voxal Voice Changer
Olivia is TechiePlus's Audio & Music Editor, covering everything from headphones to music streaming services. Based in TechiePlus's London offices, she's a popular music graduate who worked in the music industry before finding her calling in journalism. In her spare time Olivia likes gardening, painting, and hanging with her cat Ethel and golden retriever Dora.