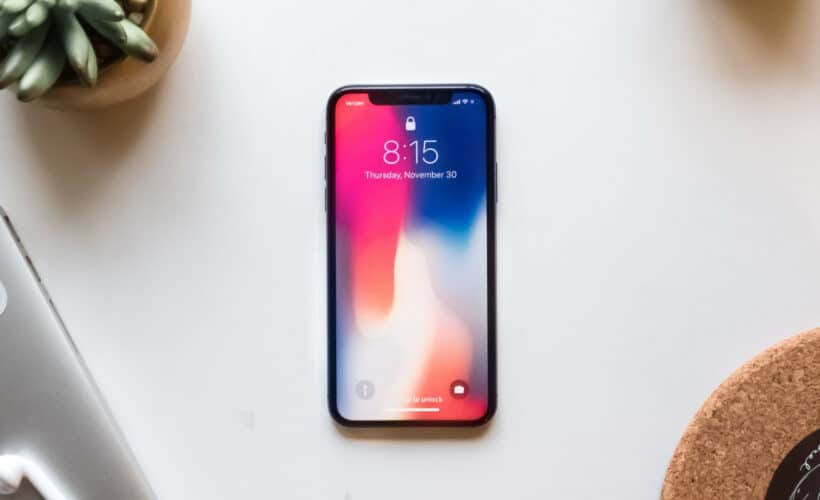 iPhone users can use the Focus Mode feature to Turn Off Focus On iPhone and hide notifications, messages, ringtones, and other smartphone alerts to concentrate on their duties. Users sometimes mistakenly turn on Focus Mode; however, because it is more complex than the Do Not Disturb mode, it has contributed to the perplexity for some users who may discover it set on.
Try one of these:
Open Control Center, click on the Focus option it'll be turned off.
Turn on the Lock screen, tap the Focus Mode icon, and choose an active focus from the list.
Or you can also go to the settings. Go to Focus and turn the toggle off. 
With Focus, you may focus more on your task now and avoid being interrupted by calls, messages, or notifications from particular individuals or apps depending on the situation or time of day. The following post should assist you in numerous ways to disable Focus if you want to utilize it on your iPhone. To Get messages app back on iphone, click here.
Start with Control Center.
The easiest method to turn off any focus mode in an iPhone is via Control Center.
Switch on your phone's Control Center.
Swipe up from the screen's bottom bezel on iPhones and iPads with a home button to open Control Center. Use the swipe-down feature from the top-right corner of smartphones without a home button.
In the tile below the orientation lock, you can see the name of the Focus that is now selected, such as Do not disturb, Personal, Sleep, Work, etc.
To turn off the Focus, tap the Focus icon.
Turn Off Focus On iPhone and tap on it. Alternatively, you can tap the Focus label to display a list of focus modes. The highlighted one will be the active one.
From the Lock Screen
When a Focus is active, its icon will appear at the top of the Lock screen in iOS 15 or as a label at the bottom in iOS 16. To disable Focus from the iPhone lock screen, adhere to these procedures.
On your iPhone, unlock the Lock Screen.
See Also: How To Unlock An iPhone Without Password [Step-By-Step Explanation]
From Preferences
You can also use Settings in iOS 15 to disable Focus Mode.
Remove Focus as seen on the Lock Screen.
In iOS 16, Apple added the capability to connect lock screens with Focus modes. Therefore, if you turn on a lock screen, its associated Focus will likewise turn on. To permanently turn off Focused, unlock it from the lock screen.
To Turn Off Focus On iPhone, follow these steps:
Deactivate Scheduled Focus.
The Focus scheduling feature is to blame if a Focus repeatedly turns on automatically at a predetermined time. As demonstrated below, you must turn off focus mode for Focus profiles.
Tap each Focus and look for the Automatic, Scheduled, or Turn on automatically area.
Disconnect Sleep Focus
How to turn off focus mode on iPhone? Sleep Focus follows the Health app's sleep schedule. To disable Sleep Focus scheduling, take the following actions:
Disable Focus Using Siri 
How to get rid of Focus on iPhone? If you like using Siri, disable the iPhone's active Focus.

Turn on Siri, and then say, "Turn off XYZ focus," where XYZ is the Focus's name. Say, "Turn off Driving Focus," for example, to make driving the default focus.
Disable the Focus Status
The Focus status is one of the critical components of the Focus mode. It enables applications like Messages to show a level indicating that you have turned off the notifications on your iPhone and iPhone videos. You can accomplish it as stated below if you only want to Turn Off Focus On iPhone rather than the complete Focus.
Tap on the Focus in iOS 15 whose Focus state you want to turn off.
After that, tap Focus status and deactivate the Share Focus status toggle. For each Focus, you will need to turn it off separately.
Disable Focus Mode for a Few Users or Apps
Fortunately, you can tailor each Focus mode to your requirements and how to disable Focus on iPhone for specific individuals or applications. When a Focus mode is on, the individuals and apps on the allow list are exempt from its restrictions.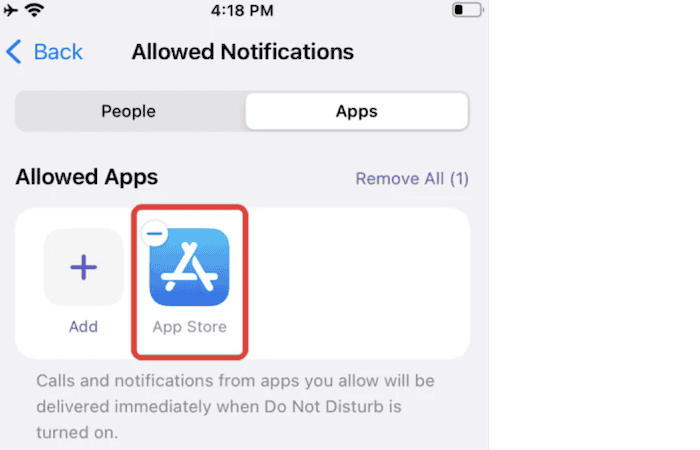 Go to Settings > Focus and select the mode you want to alter. Select People or Apps from the Notifications area, then enter the contacts or applications (like WhatsApp) you wish to allow list from Focus.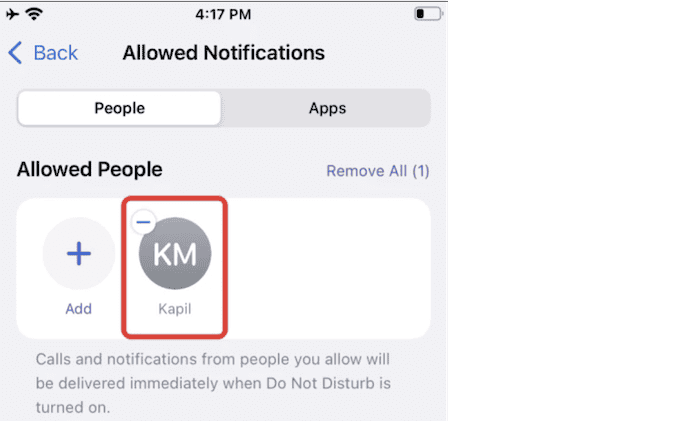 Switch Focus Sharing off
Check the Focus setting of your Apple devices if you have a few. This is due to Apple's Share across Devices setting, enabling iPhone to turn off Focus on all your Apple devices when enabled.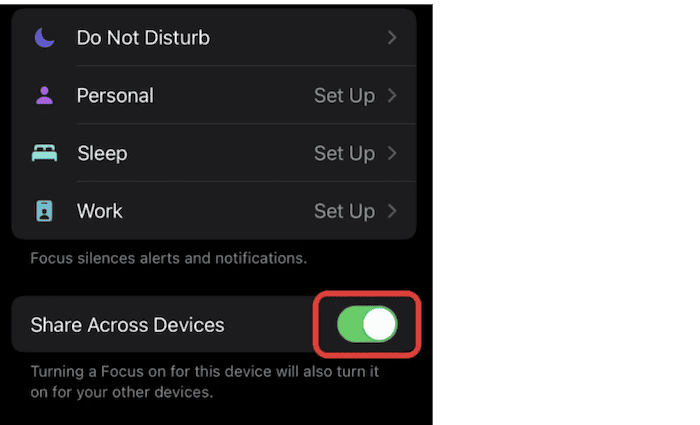 Go to Settings > Focus to turn off sharing in Focus.
See Also: Top 5 Websites For Downloading Free Ringtones For iPhone
FAQs
On iOS, how can I remove a focus?
Open the Settings app on iOS and choose the Focus section to remove a Focus. Choose the Focus you want to eliminate from the Focus panel. Next, on the following screen, scroll down and select the Delete Focus option at the bottom. The chosen Focus has now been permanently deleted from your device. It is no longer accessible.
How many Focus Modes can you operate simultaneously?
One Focus mode can only be active at once. Therefore, touching on Work while in Personal Focus mode would immediately switch the former off.
On iOS 15, where is the Do Not Disturb switch?
Before the introduction of iOS 15 and its Focus mode, iOS had a designated area for the Do Not Disturb feature.
Should iOS 15 users utilize Focus?
Focus is a fantastic new feature that iOS has included that will greatly assist you in paying greater attention to the things that are important to the Focus mode can reduce distraction while working, studying, or even while driving. Although the Focus may not be to everyone's taste, we suggest trying it.
See Also: How To Transfer Contacts From Android To iPhone [5 Quick Ways]
Conclusion
Users sometimes mistakenly turn on Focus Mode; however, it is more complex than Do Not Disturb Mode. It has contributed to perplexityIt's easy once you understand how to Turn Off Focus On your iPhone for your purpose. Your life will get easier.
See Also: How To Clear Spotlight Search History On iPhone [2023]
Sourabh Kulesh, Chief Sub Editor at Gadgets 360. and TechiePlus, writes technology news online with expertise on cybersecurity and consumer technology.