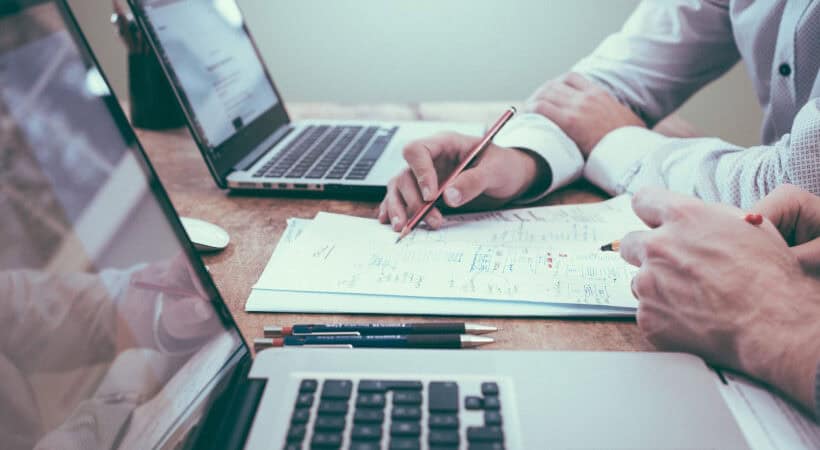 Are you trying to look for Surface Pro vs Chromebook contrast? Debating on which one to buy? Comparing the two laptops to determine the finest, your effort has been facilitated.
In the Microsoft Surface vs Chromebook comparison, it's important to note that the two devices have quite a few characteristics, like minimalism, privacy, and excellent speed. Despite their similarities, Chromebook vs Surface Pro offers some significant distinctions that, depending on your inclinations, may be intriguing to you. In comparing the Surface Pro vs Chromebook, the Google Pixelbook features an Assistant Key that launches with OK GOOGLE to carry out various tasks. It uses a processor from the Core i5 series. A Core i5 processor is found in the Surface Pro 7. It works with an i7 and 16GB of RAM. Overall, this is impressive in terms of distinctive appearance and features.
To determine which laptop best meets your needs, compare Surface Pro vs. Chromebook in several categories.
See Also: How To Connect An Xbox Controller To A Chromebook: A Guide
Surface Pro 7 from Microsoft
The newest model in the Surface series is the Surface Pro 7. It has a gorgeous 12.3″ touchscreen display, an Intel Core i5 processor from the 10th generation, 8GB of DDR4 SDRAM, and 256GB of SSD storage. Additionally, they provide i7 options with up to 16 gigabytes of RAM if you seek greater specifications.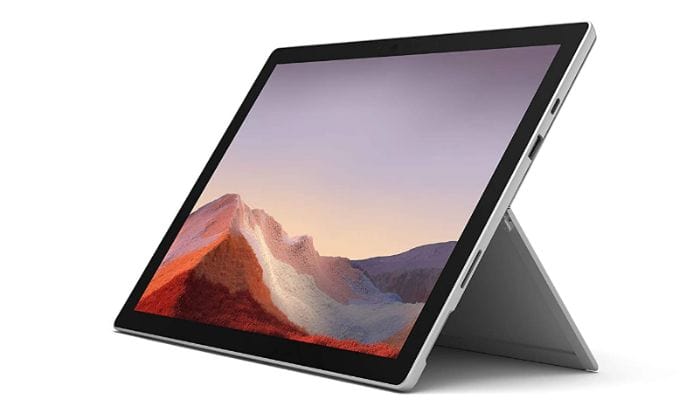 The Surface hardware range is blatantly expensive and designed to serve as a "halo" product for Windows. Microsoft can replicate the integration level that distinguishes Apple's Macs by controlling the hardware and the software.
You may enjoy more versatility when utilizing this gadget as you can utilize it as a laptop and a tablet.
Google Pixelbook
Google created the Pixelbook, a foldable laptop/tablet combination that runs ChromeOS. The Pixelbook has a 12.3-inch touchscreen, making it possible to use it as a tablet. The gadget also has a specific key for Google Assistant.
It can execute native Android apps and operate Chrome OS. Depending on the opening angle, the computer can work in "laptop," "tent," or "tablet" modes because of the hinge's almost 360° range of motion.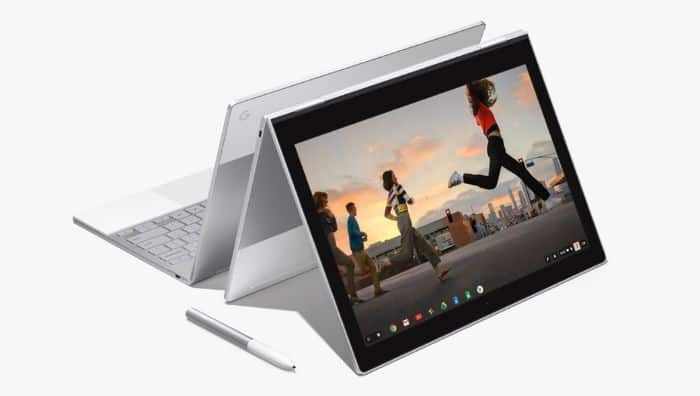 It has quick tethering, and if the wifi connection drops, the Pixelbook will automatically add to a signal from a compatible smartphone.
You may also be interested in the best email client for Chromebook.
See Also: 8 Free Sound Boosters For Windows 10 In 2023
Surface Pro vs Chromebook
There are several distinctions when contrasting the Surface Pro vs Chromebook.
Operating System
Operating systems are the first and most obvious distinction between a Surface Pro and a Chromebook.
The extremely sophisticated Chrome OS, which has a smooth user interface and extreme minimalism, powers Chromebooks. Your laptop continually operates in a web-based ecosystem where the Google Play Store and Linux OS integration provide a feature-rich interface.
Only a small amount of data is retained on your computer because everything is web-based; the remainder is sent directly to the cloud, whether it is Google Driver or another client.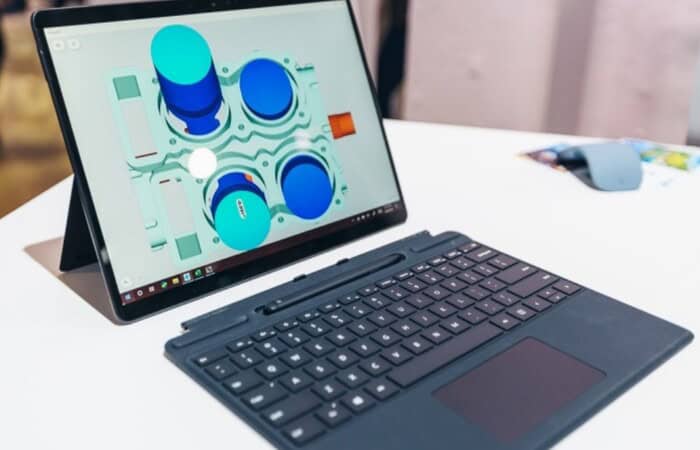 In the opposite quadrant is the Microsoft Surface Pro, which runs Windows, a well-liked operating system with a dynamic interface and a tonne of user-focused software. When the Surface first debuted, Windows 8 was preinstalled on it.
Surface devices began to be released with Windows 10 S, a simpler version of Windows 10, as time passed and more advanced models entered production. The most recent Surface models, including the Windows Surface Pro, now come preinstalled with Windows 10.
See Also: Ten Easy Ways On How To Make Your Chromebook Faster
Accessibility
The degree of functionality and accessibility between these two systems is another distinguishing factor. Since Chromebooks are connected to the enormous Google Play Store, every Android app can run on Chrome OS.
More than a million apps are now available on Chromebooks due to this direct integration, many of which are excellent alternatives to desktop-based programs. Additionally, Chrome OS has support for a Linux variant.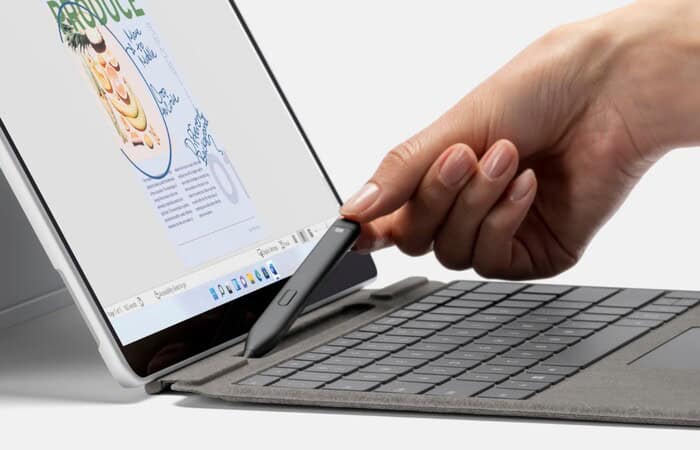 Microsoft Surface has an intriguing aspect. Although it is not directly comparable to Android apps in some ways, it does open the door for completely desktop-focused applications rather than mobile-focused ones.
Because of this, several Play Store-downloaded Chrome applications have an appearance and functionality more appropriate for mobile devices. The Surface performs significantly better, albeit at a tolerable level for a large library of programs.
See Also: How To Test Microphone On Chromebook? Easy Step-By-Step Guide
Battery Life
You would anticipate a definite winner when we pit Chromebook vs Surface head-to-head in the battery category. Surprisingly, we anticipated that the Surface Pro 7 would dominate the battle because it has a newer processor. We are completely in error.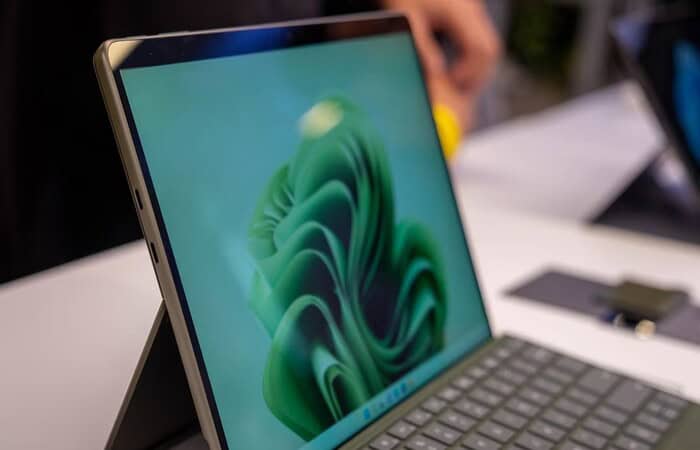 The Surface Pro 7 and the Pixelbook provide a 10-hour usage guarantee (10.5 for Surface Pro 7). The problem is that the 10-hour battery test included both active use and contemporary standby. These laptops have a real-world battery life of up to 7 hours.
Design
The weight is only 2.45 lbs, and the thickness is 10.33mm. It is an appropriate choice for a business owner or scholar.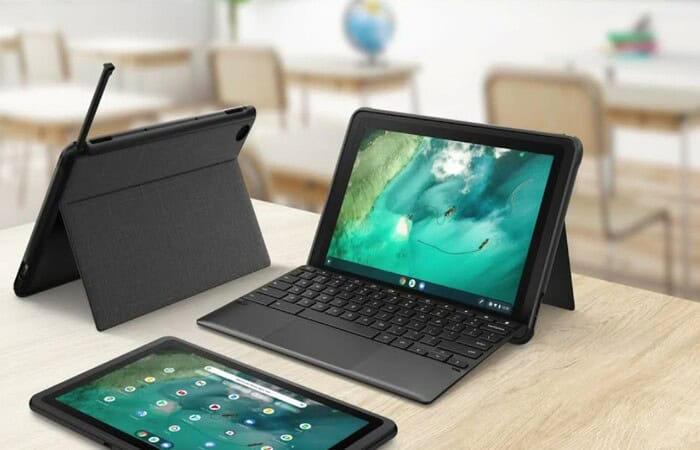 The Surface Pro 7 is also sufficiently slim, but its lighter weight of 1.70 lbs makes it more compact. It becomes more practical and portable as a result.
Display
In this comparison, the Surface Pro vs. Chromebook can be quite arbitrary. The Pixelbook sports a 16:10 screen ratio compared to the Surface Pro 7's 3:2.
We adore the Surface Pro 7's screen space when used just for work. On the contrary, it is a great perk to have fewer black bars to fret about concerning entertainment.
See Also: How To Share Screen On Chromebook? Top 4 Ways For Screen Sharing
FAQs
What distinguishes a Chromebook from a Microsoft Surface laptop?
Of course, the operating system is where a Chromebook and a laptop differ most. The big negative aspect of ChromeOS vs. Windows is that you can only execute some Microsoft software on a Chromebook, including Word, Excel, or PowerPoint.
How long does a Surface Pro last?
A Surface Pro should last numerous years if properly maintained and sustained(2 to 3). They employ the most current Windows operating system and Intel CPUs (the same ones as Apple uses). Since all batteries have a certain amount of charge cycles, the battery is the key limiting element.
Can viruses infect Chromebooks?
How can I guard against malware on my Chromebook? Viruses cannot infect a Chromebook due to its numerous layers of security. You may, nonetheless, acquire other varieties of malware. By ensuring that all of your Chromebook's security measures are active and utilizing additional antivirus software, you can safeguard it from infection.
Can a Chromebook run Windows?
Chromebooks may run Windows 10 thanks to the pioneering virtualization program Parallels Desktop for Chromebook Enterprise. The program allows high-powered Chromebooks to run like a typical Windows laptop.
Conclusion
Devices like the Microsoft Surface and Chromebook are very practical and give you the best of both worlds. Both are portable, have quick boot times, and can complete two tasks at once, among other similarities. There are, nonetheless, some significant distinctions between Microsoft Surface vs. Chromebook that have been covered above. If you're considering purchasing one of them, assess your needs after learning about the key aspects that set them apart.
See Also: 6 Best Email Client For Chromebook Tools Of 2023
Introducing TechiePlus's all-in-one Editor, Olivia, based in London. From headphones to music streaming, she's got you covered.