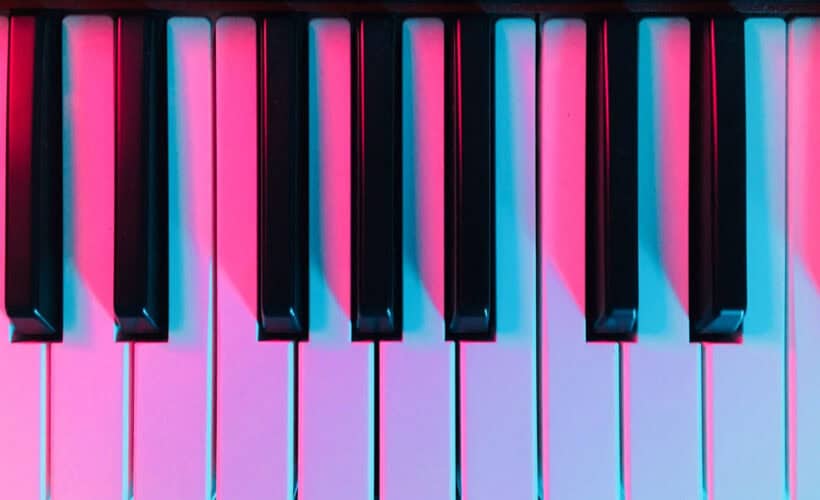 Sweet Little Piano
My Piano Phone
Everyone Piano
A73 Piano Station
Virtual MIDI Piano Keyboard
Flowkey
Now you can learn the piano almost anytime and anywhere. Let's look at them one by one.
6 Piano Learning Software to Use in 2023
The piano learning software mentioned below is some of the best software one should start using if they have the aura of a musician. After all, the piano is not an easy instrument to learn.
Sweet Little Piano
If you want piano learning software with an easily used interface and desired features, you must try Sweet Little Piano. This piano learning software can be used as a virtual flute, guitar, and draw organ. It allows you to change the user interface and keyboard design according to your needs and the notes to sharps or flats.
One of the exciting things about this piano learning software is the pre-mapped keyboard keys that generate MIDI notes. The MIDI audio files can be quickly recorded and edited and are perfect for musicians. The Sweet Little Piano is simple because it contains only a few tools and is quite a hustle.
My Piano Phone
My Piano Phone is an application that can also be used for Windows Phone and Windows 10. It contains different types of linked or coordinated songs, helping you to play and learn quickly. One of the most used features of this piano learning software is the allowance to users of one or two keyboards at a time.
It also has a drum kit, which helps you to maintain the beat of your playing, or else you can also improve the sound of your music.
This piano learning software also has other instruments such as electric guitar, acoustic guitar, trumpet, violin, etc. The only major drawback of this piano learning software is the recording. It does not contain the option of recording. You can only use this software as an activity for enjoyment in your free or leisure time.
Download: My Piano Phone 
See Also: The Top 6 Chinese Music Apps in 2023
Everyone Piano
Everyone Piano is a piano learning software similar to the real piano. It is the perfect application for beginners to professional musicians. Everyone's piano sounds so genuine that it imitates the appearance or character of a piano pedal. It contains several exciting features, such as it allows you to record your playing, design your keyboard, playback, play halftone, and several others.
One of the best things about Everyone Piano is that it helps you to improve your piano skills by giving a music score for your playing.
This piano learning software allows you to download various plug-ins that improve the entertainment and increase the educational value of the app from the official website of Everyone Piano.
Everyone Piano is an adaptable and flexible application, from recording capabilities to teaching materials. Another essential feature of this application is that it provides support for external MIDI keyboards and VSTI. Also, it has different modes, such as the children, Adults, and Elder modes.
Download: Everyone Piano 
A73 Piano Station
A73 Piano Station looks good, plays well, and has essential features. Still, the major drawback is that it has no unique feature that makes this piano learning software different from the other apps available. It has a user interface that is classy, elegant, and professional. It looks exactly like a real keyboard with information displays and slider controls.
Naturally, the piano software looks useful and contains fantastic features.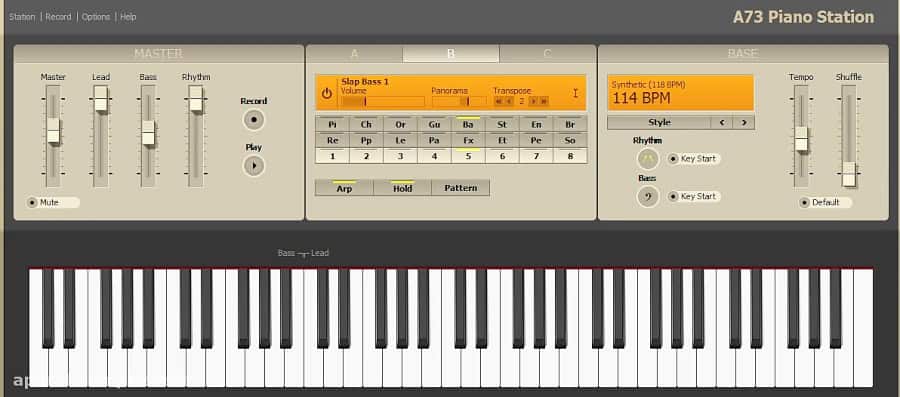 For beginners, this piano learning software has a full-sized six-octave keyboard with which you can play other musical instruments like drums, guitar, and bass. It allows you to play three different types of tools at the same time simultaneously.
A73 Piano Station will help you with documents containing detailed information about the program if you do not know how to operate certain application functions. Besides, this piano learning software allows you to save your projects. This feature does not demand other programs to combine and record your compositions.
Download : A73 Piano Station 
Virtual MIDI Piano Keyboard
Virtual MIDI Piano Keyboard is the best option for all the expert players or musicians who want a program that is invalid for any unnecessary functions. The Piano Keyboard is perfect for professionals as the design approves practicality over decorations and design. It has a user interface that is simple and is not much impressive.
Yet this piano learning software has one crucial point. It is a need for a MIDI synthesizer to produce music, as the program itself will not provide any sound. It can also display notes from other instruments connected to your computer's MIDI ports.
See Also: The 6 Ideal Video Sharing Apps for Content Creators in 2023
This piano learning software features different preset programs such as tango accordion, a grand piano with which you can produce different sounds. Besides, it allows you to adjust the sound using Transpose and Base octave options. The other controls available on this application are phaser depth, expression, and modulation.
The Virtual MIDI Piano Keyboard is robust, adaptable, and flexible for professionals.
Download: Virtual MIDI Piano Keyboard
Flowkey
Flowkey is a perfect adaptable piano teaching application for learning songs. Its structuralization is in alliance with Yamaha. Flowkey works excellently with a MIDI keyboard or an acoustic piano. It provides you with the tracking of your progress using any method.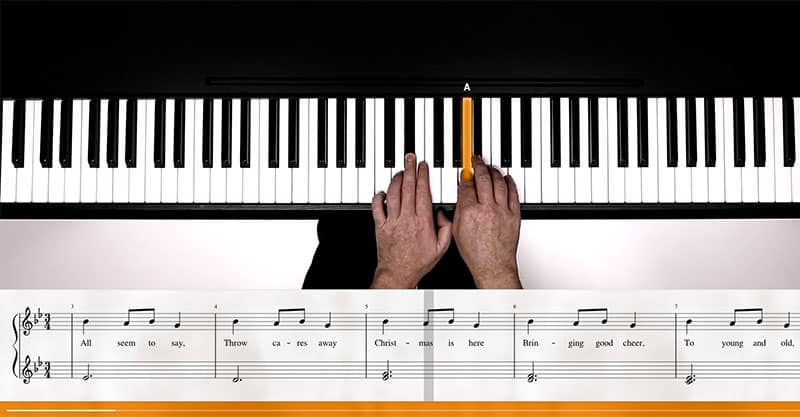 This piano learning software mainly aims to learn your favorite piano songs. Also, you can test your skills before you start using the software. Also, you can directly move to the lessons from the exact starting point.
Flowkey is suitable for all your skill levels. It tracks your progress with both MIDI and acoustic pianos. Also, it has different features such as slow down, pause, and loop. It provides you with the free option to get started.
Download: Flowkey 
FAQs
What is software for studying the piano?
They call the software used to teach individuals how to play the piano learning software. To aid users in improving their piano skills, these software solutions frequently incorporate interactive lessons, virtual keyboards, sheet music, and numerous practice aids.
How does piano-study software operate?
Piano learning software often combines instructional videos, interactive courses, and gamification strategies to teach users how to play the piano. Additionally, it might offer tools like real-time feedback, progress tracking, and adjustable learning paths according to the user's proficiency.
Is beginner-friendly piano learning software available?
Yes, beginner-friendly features are frequently included in piano learning software. It begins with fundamental ideas and moves up to more complex strategies. Numerous organizations provide beginning lessons for people who have never played the piano.
Can computerized piano instruction take the role of instructor-led lessons?
Though it might be a great addition to conventional classes, piano learning software might only partially replace the advantages of having a skilled piano teacher. A teacher can correct posture and technique, offer individualized criticism, and offer assistance depending on a student's strengths and deficiencies.
What characteristics should I seek in software for learning the piano?
Clear instructions and interactive teaching Virtual Practice keyboards Real-time feedback on playing accuracy - Progress monitoring and performance metrics A wide selection of tunes and exercises Flexible learning pathways Support for various devices (PC, Mac, tablets, etc.)
Can I use piano learning software without a MIDI keyboard?
While specific piano learning software can be used with a touch-screen or regular computer keyboard, employing a MIDI keyboard provides a more effective and realistic learning environment. Touch-sensitive buttons and software communication capabilities on MIDI keyboards allow for improved feedback.
Conclusion
Irrespective of your phase as a beginner or an expertise piano player, these six best piano learning software for Windows will be perfect for you. Each software has pros and cons. All these piano learning software are free to download and use. Now, you may choose the best one that is ideal for you. Now that you know you can play piano, why not use a MIDI converter to make your music better? Click here to learn more.
Meet Carrie-Ann Skinner, our Apps & Games Editor with over 2 decades of experience in online and print journalism, specializing in all things tech.