Have an important presentation? You will agree that you most likely need a projector to make it a success. Otherwise, how will you visualize your data or show your stats through pie charts and bar graphs? Or worse, what if you have everything ready, but the projector stops working abruptly? A phone with built-in projectors may be just what you need. 
Well, technologies and efforts of many techies have tried to incorporate the quality and functionality of a projector in something more portable- your phone, for example. Yes, you read that precisely- phones with built-in projectors. The best phone with built-in projectors includes- Akyumen Holofone, Lenovo Smart Cast, MOVI, Samsung Smart Beam 2, and Moto Z/Force Droid. 
The phone with built-in projectors is here to assist you in seamlessly presenting your ideas and prospects without worrying about their technicalities. With just a few clicks on your phone, the presentation is smoothly up for others to see. The projector does not require any wires or other hardware to operate.
5 Best Phones With Built-in Projectors
This article will list the best phone with built-in projectors so that your presentation objective is achieved and you do not feel overwhelmed by other factors. 
Lenovo Smart Cast
You have to consider Lenovo when it comes to innovative projects like a phone with built-in projectors. After all, it is actually the first smartphone to ever have a focus-free laser projector. The days you carry a laptop to connect to a projector are thin. Lenovo Smart cast has a button that starts the smart cast, which begins the projection from the phone.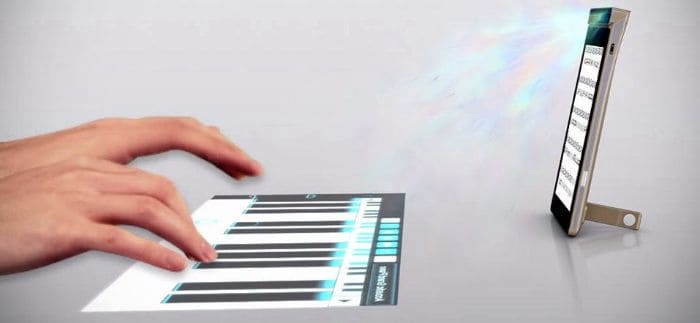 That button alone has the power to mirror your screen, including apps, presentations, videos, and many more. This Lenovo smartphone also incorporates a built-in infrared sensor that monitors/tracks motions. This feature turns every surface the phone is mirrored on into a touchscreen. Such a great and innovative feature tells the future of phones. Lenovo Smart cast is the best option for your phone with built-in projectors.
See Also: How To Transfer Text Messages From Android To IPhone
Visit: Lenovo Smart cast
Akyumen Holofone
Coming up with a range of different devices serving different preferences, the Akyumen Holofone fulfills your requirement for a built-in phone projector. Although this tablet is informally called a Phablet, it also has a 7-inch screen. Comprising the standardized 128GB of storage and 4GB RAM, the Holofone phablet also has the Intel Atom Cherry Trail processor.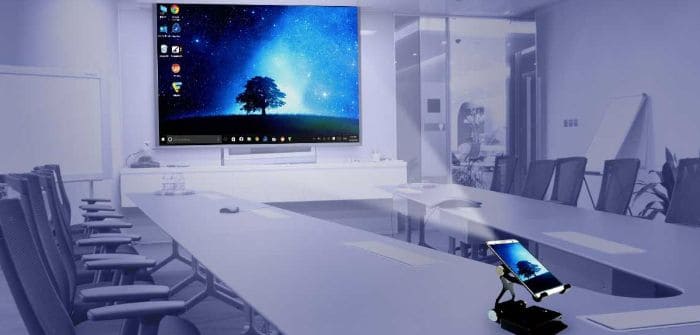 The 35-lumen projector of Akyumen Holofone makes it to this list of phone with built-in projectors. This projector will connect your phone screen seamlessly onto wherever you want to. The Falcon projector has varying features regarding mobile projection. This 7-inch phablet has the same projection controls as a 10-inch Holofone, only that the latter has a 40-lumen projector.
See Also: How To Remove Sound From IPhone Video
Visit: Akyumen Holofone
MOVI
MOVI is a brilliant choice for a phone with a built-in projector. This smartphone is precisely made to cater to the objective of mobile screen projection. The MOVI smartphone comes with a projector that supports HD or high-definition DLP LED Pico display and can exhibit up to 720 pixels.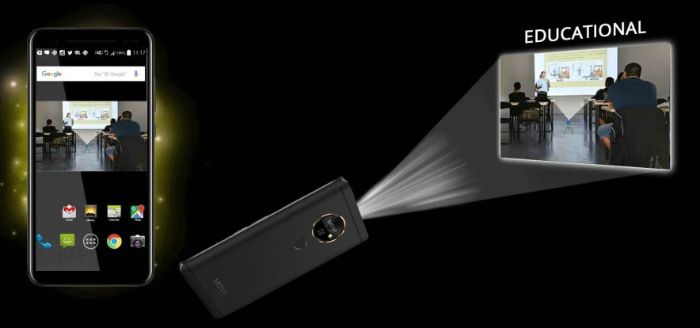 MOVI, as a phone with built-in projectors, wants to replace traditional and bulky projectors with its sleek and slim design. Having a strong chipset of Qualcomm 821 Snapdragon, it guarantees clear and crisp projection. Even though the sale of MOVI is not open to all countries markets, it surely is one of the fundamental steps to future smartphones. We cannot wait till these phones fill up stores. 
See Also: How To View Broken Phone Screen On Computer
Visit: MOVI
Samsung Galaxy Beam 2
Despite its launch back in 2014, the innovative features of this smartphone deserve to be in this article. The phone has a 4-inch touchscreen with a 400 by 800 pixels display. A 1.2 GHz processor operates within this phone. You may want to see how to use an iPad as a monitor on windows.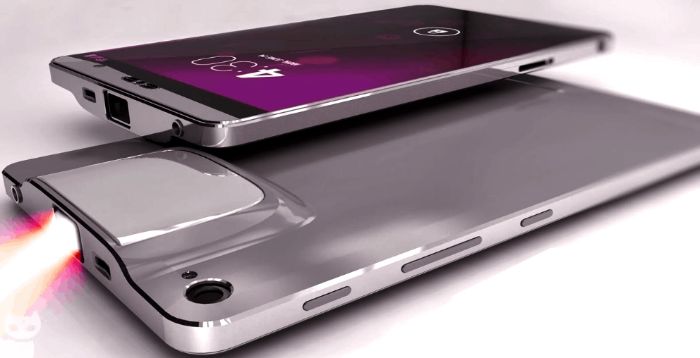 Understandably, a phone launched in 2014 will not be as competitive with the requirements of a user as a smartphone of 2022. However, the projector of this model is worth mentioning. It is certainly not bad in terms of a phone with built-in projectors.
Visit: Samsung Galaxy Beam 2
Moto Z/Moto Z Force Droid
Even if these Motorola projection screen phones cannot be considered phone with built-in projectors, it supports a Moto Mod extension. These extensions are modules powerful enough to change your MotoZ/Moto Z Force Droid into a power bank, a boombox, or even a projector.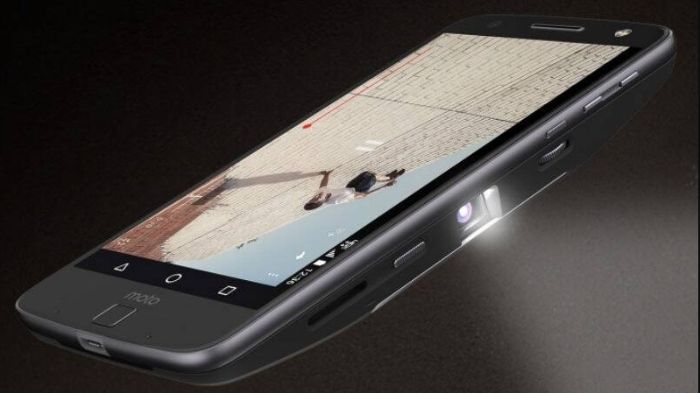 The back of the Moto Z smartphone comes with 16 pins for further ease of connection. Though the battery is not all that great, it does have a 5.5-inch AMOLED and QuadHD display with a fingerprint scanner, storage of 16GB, and a processor of Snapdragon 820. 
Visit: Moto Z/Moto Z Force Droid
FAQs
Are there mobile phone projectors?
Yes, there are. Phone with built-in projectors exists with brilliantly clear image quality throughout multiple e-stores. These tiny portable projectors can be easily linked/connected with any compatible device like another smartphone, gaming console, or laptop, providing a whole new experience.
Are there any apps to project videos on a wall?
Apps like the Video Projector on the wall are some of the best simulator apps for projectors, exclusively for android devices. These are available for free on any app store. A video projector is an app that allows you to choose to project any video on your smartphone onto a wall. Whether you watch a movie or want to show something to your family/friends, these applications can be immensely helpful.
Can I use an Android phone as a projector?
Many projectors have HDMI as their standard input port. Other than that, a simple external adapter like the ones sold by Monoproce will enable a smooth connection from your phone to your projector. On your android phone, you have to change the source to begin the screen mirroring so that the projection starts.
Does the Huawei p20 come with a screen mirroring feature?
Of course, it has! Get a USB type-C cable adaptable with an HDMI port. Now you must plug the HDMI cable end into the TV port and the type-c end to your Huawei phone. Go to the notification panel on your Huawei. There, you will see the option of screen mirroring. Click on it, and wait till the name of your TV comes up. Click on the Tv name to connect, and now you see your phone's screen on the connected TV.
How to project a small picture?
Certain adjustments to your projector will get you your desired frame size. The larger the image you want on your screen, the farther you have to move the projector away. Similarly, shift the projector closer to the screen if you want a smaller size. Do this carefully to avoid getting a blurry image after the distance adjustment between the projector and the surface/screen.
Conclusion
A phone with built-in projectors is a huge step in the future of mobile projection. You can project anything onto any surface with a few clicks on your phone alone. Watch movies, make presentations, or do any activity where projectors come in handy. Hopefully, in the future, phones like these may as well fully replace projectors or become a popular demand of mobile users. 
See Also: Top 6 Screen Share Apps For Android
I love technology and computers! And I love spreading more and more about it too! So, this is my attempt to share as much as tech news as I can with people all over the world.