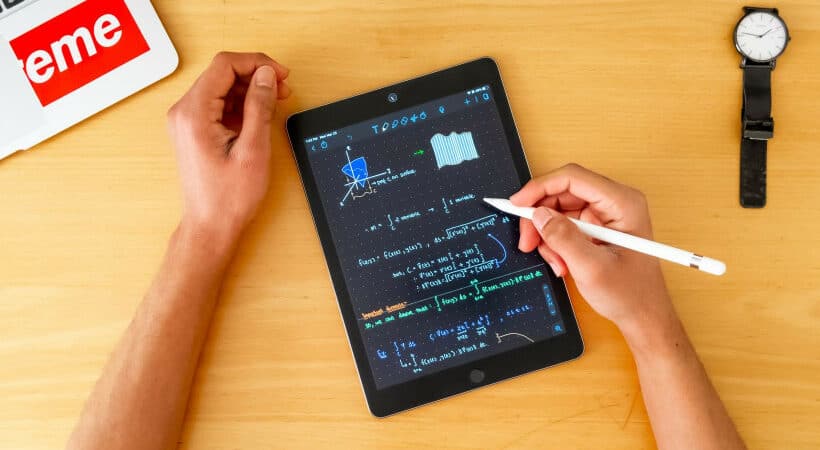 Math is daunting for people who don't understand it. However, we have access to the internet and apps that can assist us with nearly any task. So why not try to answer your school math sums with some excellent math word problem solver apps?
Math apps are the best way to boost your mathematical abilities. These apps do not only review and display the best solution but work effectively in stages so that you can learn how to solve problems.
10 Best Math Word Problem Solver Apps
This page lists the top 10 math word problem-solving apps. They are praiseworthy and frequently help you with your math sums. So let's explore the apps further in-depth.
Brainly
Brainly helps digest the basic math formulas in your brain. The software is simple to use and offers a broad curriculum in mathematics, geology, science, botany, and much more! Its vast community of people willing to help one another across the planet is one of its eccentric features.
You can scan, write, or ask someone for help if you need to find a solution right away. You can also discuss in the community if you still can't figure out the answers to your arithmetic difficulties. It is more practical than the other apps on the math word problem solver list because of the community function. 350+ million users, including professionals, students, and kids, use the app globally. The tool is now available around the clock and will assist users in finding solutions to various challenging mathematical problems.
Cymath
Regarding the top 10 math word problem solver apps, Cymath is the best option for your smartphones to instantly and logically solve math word puzzles.
This app offers assistance with both calculus and algebra. Simply enter a topic from your math class, and Cymath will decode it step-by-step for you. And it will solve it for you with a single press. Additionally, you can post your questions on the smart calculator. You can quickly use this software to solve arithmetic problems as part of your assignment. In addition to assignment questions, they provide step-by-step instructions on reaching the answer.
While enabling you to solve problems immediately, the Cymath, like all math word problem solver apps, uses the exact mathematical approach. But, they allow you to practice math problems in your home tongue! This way, Cymath promotes local education greatly. The free edition has restrictions because the paid one gives you more thorough instructions. But it's a great deal! Learn math in your mother tongue? Heck yeah!
HiPER Scientific Calculator
The HiPER app is a powerful tool in the scientific calculator faction. It's a terrific tool for anyone who wants to master mathematics, not just math students. As the name suggests, HiPER Development control is the mastermind behind this app.
The tool is available for a fee and is ad-free, with the paid "Pro" edition including several extra functions and improved customization choices for working out the arithmetic challenge. Ten regular and three exponential digits are available in the free version, whereas 100 regular and nine exponential numbers are available in the premium version.
Quite a difference! This function's trigonometric and hyperbolic properties will appeal to math nerds. Although many users praise its basic arithmetic techniques, it is capable of other things as well. Along with periodic numbers, fractional conversions, and an endless number of braces.
Download: Android
Desmos Graphing Calculator
Everyone talks about numbers when it comes to math. But what about charts and graphs! While almost every math word problem solver app can solve graphs, it is tough to beat apps specially built to solve graphical math problems.
A competent calculator is the Desmos Graphing Calculator. In contrast to hardware calculators, which are made to solve complex equations, it strongly emphasizes the workflow's graphing component. The app has a zoom tool for more accurate results, making it simple to locate noteworthy points of interest like sites of intersection, maximum, and minimum.
Open Omnia
The name Open Omnia is pretty smart if you think about it. In Latin, Omnia translates to "prepared for everything." Thus, the software implies that it has unlocked solutions to all math problems. And for those searching for an immediate fix, that is undoubtedly a good factor. Clever, eh?
This feature-rich tool has an algebra calculator that can simplify, expand, factorize algebraic equations. It also offers a graphing calculator that allows you to plot functions, parametric, and polar curves. Open Omnia also provides many other calculators for calculus.
Download: Android
Photomath
Are people having trouble with mathematics? Photomath will help you solve every math sum you ever encounter in the easiest way. There are no difficulties using the application. This app is compatible with Windows and Android.
They offer major benefits of emphasizing the appropriate math problems for you. Furthermore, they are revised with the latest technology. What's more, equations are calculated by the program accurately and thoroughly. Like classroom teachers use a blackboard, Photomath will use short steps to demonstrate your math problems. You'll be able to resolve graph equations and use them to identify any equation's answers.
See also: The 7 Best Word Game Apps In 2023 | Play Now!
Khan Academy
Because it offers many different learning paths, Khan Academy is a well-known organization. It is among the most popular math word problem-solving apps. Aspect-savvy teachers will explain mathematics in ways you can understand.
You'll find solutions to most of your math sums with 35,000+ questions and 10,000+ videos. Teachers can use Khan Academy in the classroom to improve engagement and boost critical thinking abilities.
The application handles fundamental algebra, trigonometry, statistics, etc., excellently. You can sharpen your mathematical skills. How, you ask? You can take quizzes and chapter-length assessments if you believe you have studied enough. You can bookmark your favorite articles using a simple click. Plus, it is free! We all like free stuff!
Qanda
Qanda has an easy method for solving any mathematical dilemmas: scanning photos. The South Korean app has now resolved more than 1 billion problems and based on how it works, it seems that number will blow the charts soon.
Artificial intelligence, at the core of Qanda, quickly provides answers to scanned photos. With its intelligent calculator, you can experiment with algebra, calculus, trigonometry, and much more. The best feature is the app's ability to fetch internet resources, such as videos and step-by-step explanations, when you ask a question.
YouTube
You would agree that YouTube is the current standard of the jack of all trades. There are 500 hours of fresh videos uploaded every minute to the largest free digital library in the world. You cannot miss this in the math word problem solver apps list. So, it would be doing YouTube an injustice to leave it off this list, don't you think?
Many consider the app as their personal instructor. Numerous writers create articles about math and its many related topics. Any keyword can be easily searched, and at least hundreds of results appear. Take a gander at the fun Mathologer and Numberphile channels!
See also: Top 6 Reading Apps For Kids To Make Learning Fun
Math Cafe
It's not the kind of cafe that you would want to chill in, but math nerds will love it. The final application on our list of the top math word problem solver apps deserves the honor.
Every arithmetic sum you look forward to solving is given with step-by-step instructions and straightforward solutions. Math Cafe will assist you at every stage, from mathematical equations, through the scientific calculator. 
Download: Android
FAQs
Is Photomath Safe?
You can use Photomath with assurance. Since there is no chance to meet or interact with strangers on Photomath, it is safe for youngsters to use. Some individuals believe you may complete your math assignment faster if you use this tool. However, you can learn how to use this tool to solve any arithmetic issue and advance your mathematical abilities.
Can Photomath Solve My Math Problem?
Yes, all of your math difficulties can be solved by this programme. This programme can handle a wide range of math problems. For instance, this programme may solve pre-algebra or elementary math issues including integers, arithmetic, decimal numbers, roots, and factors. Then, this programme may also resolve a variety of mathematical issues, including those involving algebra, equations, logarithms, matrix, trigonometry, geometry, and many more.
Conclusion
There you have it! These are the top 10 math word problem solver apps. These apps are made to handle anything math, whether it is trigonometry, algebra, or integral. You can solve any math challenges you run with any of the tools on this list. No matter who you are—a student, a child, a teacher, or a parent—this article has all the (math) answers you need.
Have you ever tried any of these apps? How could using these apps help you? Do you still believe that paying tuition is better than these apps? Tell us in the comments section below.
See also: Best Apps To Learn New Words In 2023 | Top 6
Nick Pino is the Senior Editor of Home Entertainment at TechiePlus and covers TVs, headphones, speakers, video games, VR and streaming devices. He's written for TechRadar, GamesRadar, Official Xbox Magazine, PC Gamer and other outlets over the last decade, and he has a degree in computer science he's not using if anyone wants it.