Streaming online content services like Netflix, Amazon Prime, or Hulu offers you a large variety of fantastic content. However, none of these offer you access to local channels. In this case, the Amazon Firestick TV is the best help you can get. This incredible device allows you to stream all of your favorite content as well as the local channels right before you on your TV. In this article below, well-explained and proper guidance is given that will help you get local channels on Firestick TV.
How To Watch Local Channels On Firestick TV
A list of methods that will allow you to watch local channels on Firestick TV is given below. Go through them and find the best one that suits your requirements.
Digital Antenna
The most direct way to get local channels is to start using a digital antenna. Switching to a digital antenna will help you access all the local news channels, weather reports, etc., without any additional fees. Amazon Fire TV recast is a great option to go with as it contains a built-in antenna input on the back of the box.
However, it's a bit high in price but is worth it. You can also look forward to using a Plex server if you have a digital antenna. The Plex server needs to be connected to your Fire TV stick. Once it gets connected, you can enjoy access to any local channel you like.
Kodi
Kodi is a great option to watch local channels on Firestick. This is an open-source media server. Kodi offers you a wide range of local channels worldwide that are free of cost. Once you install Kodi on your Amazon Fire TV Stick, you need to worry about your entertainment. Kodi will provide you a lot of channels and all sorts right on your TV.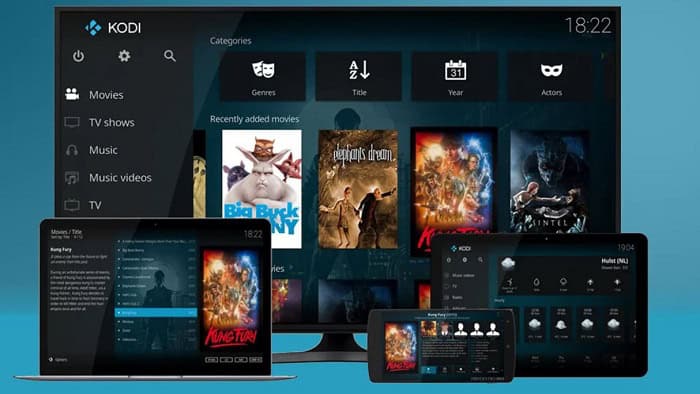 If you have already installed Kodi and facing an issue, solve it here.
Live Streaming Service
Even without the digital antennas and complex servers, you can watch your favorite local channels on  Firestick TV. A live streaming service gives you the option to select, choose and pay only for the channels you want to include in your TV stick. Live streaming services like Hulu Live TV, YouTube TV, and Sling TV are the most popular ones. But there are also several live streaming services that you can check and choose According to your choice and budget.
Channel-Specific Applications
Many TV channels have their own Amazon Fire TV stick apps. But the disadvantage here is that you have to search and look for the apps, and to be precise, it's very time consuming and frustrating as the apps will work for that specific channel only. This implies that you have to hunt down every app specific to your favorite channel.
Still, this is an easy and reliable solution if you don't want to set up a digital antenna or pay for any expensive server. You can easily find apps on your Fire Stick by simply clicking on the apps option on your home screen and then choosing categories, then movies and TV. You can also simply search for the channel app using the Alexa button on your remote.
Multi-Channel Applications
To get access to hundreds of TV channels in your local area for free, you can rely on the applications available on the Amazon Fire TV stick. You can access these channels for free, and they include local contents, maybe not for each area but by default, giving access to all the local channels and contents of the major metro cities. These apps provide a good lot of high quality and efficient content, sometimes charging a small amount of money, but it usually for free.
But a significant disadvantage and warning to put forth is that not all of the apps have the license to be viewed or broadcasted in your country as the app creator does not permit this. If that's the case, you can lodge a complaint from your ISP if the detection Is successful. It is really difficult to say which of the apps are free and borrowed, so it is safe to install a VPN on your Amazon Fire TV Stick so that your viewing is safe and legal.
App To Watch Local Channels On Firestick TV
So with the above mentioned various ways of getting local channels on Firestick TV is over. But let's present before you some of the apps and services that are already available or installed to view your favorite local channels.
LiveNet TV 
LiveNet TV is an app that provides you the access to more than 800 channels. The apps are from countries like India, Europe, Pakistan, the UK, the US, etc.
Channels like sports, news, entertainment, kid section, cooking, and several others are included. This app is not present on the Amazon FireStick TV by default, but you can install it easily.
Swift Streamz Live TV
Similar to the LiveNet TV, Swift Streamz Live TV gives you access to local channels of the US, the UK, and many more Asian and European countries.
It is also not available on the Amazon Fire TV stick and so has to be installed.
YouTube TV
This online service provider is one of the most popular ones, which naturally makes it the most expensive. This is now available on the Amazon Fire TV Stick, and so you can access it anywhere and everywhere. And you can easily watch your local channels on Firestick TV. Download YouTube TV here!
Sling TV
This is also an online service provider. Sling TV provides you with a basic set of channels by default and then you can add on your favorite channels.
They offer you the channels based on the area you live in. It is quite an excellent choice to make at a moderate price.
Hulu Live TV
Hulu Live TV is one the widely used channel service app used. They provide you access to several local as well as national, and international channels. It gives HD streaming at a moderate price and on many devices like Amazon Fire TV Stick. 
See also: Can't Find Hulu App On Samsung TV? Follow These Methods
Conclusion
So, these were the ways by which you can watch your local channels on Firestick TV. Both of them would be useful and efficient if you own a Amazon Fire TV Stick. Do try them and let us know which one was very helpful to you. Now you can enjoy your favorite shows of your local channels. Happy streaming! 🙂
See Also: How To Add Disney Plus To Vizio Smart TV? [Easy Guide]
I love technology and computers! And I love spreading more and more about it too! So, this is my attempt to share as much as tech news as I can with people all over the world.