iPhone is known for its reliability and unique features. Many iPhones run a minimum of five years steadily or maybe longer. You'll be able to generally identify an iPhone age by knowing its model number, like iPhone X comes out in 2017, the XR model in 2018 and iPhone 11 in 2019, and so on. If you want to bypass your iPhone passcode in easy ways then click here.
Visit: iPhone Store
But if your cell is just too old, it'll be hard to know the age or manufacturing year as you don't have a billing or the other detail that will assist you in identifying how old is my iPhone. 
The reasons for knowing the iPhone's age are often different. Like, you are learning your phone's age could be a must after exchanging your old iPhone for a brand new one. It helps you understand how much you'd get in exchange or what can be the most effective resale value after you try to resale your old iPhone.
In other situations, your phone's age helps you recognize the purchase date, warranty period and support Coverage, etc. As you never know, you will need these details in the future.
Or there can be other reasons such as you want to sell this iPhone. Otherwise, you want to know further details of the device.
After obtaining the serial number of the iPhone, there are different types of ways to get the information we need, i.e., how old is my iPhone?
See Also: How to Transfer Contacts from Android to iPhone [5 Quick Ways]
Using Apple Check Coverage
Apple provides an official webpage, created on the apple sub-domain, to check Apple's device warranty, support, and service coverage.
Visit: Apple Service and Support Coverage
Follow these steps to know these –
Step 1
Get your phone serial number from phone settings.
Step 2
Now open this – Check Coverage and enter your serial number.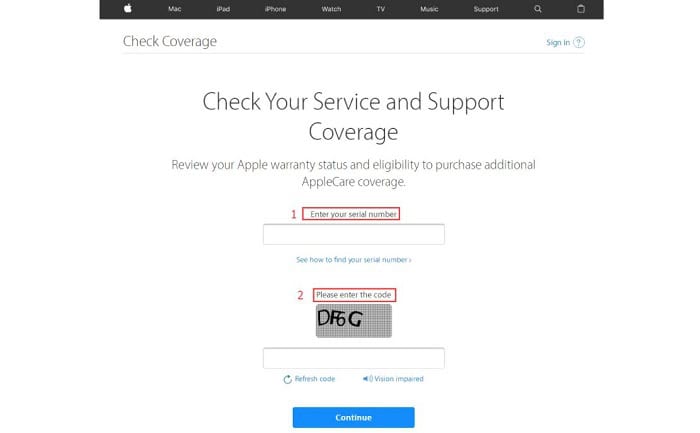 Step 3
Enter the Captcha code and click on "Continue. " The next page will show you the status of your iPhone support and service. If they are showing expired that means, your iPhone age is more than one year.
Since Apple offers one year warranty on all devices, this method can only help you identify your iPhone age is less than one year or more.
See Also: Top 5 Websites for Downloading Free Ringtones for iPhone
Using Chipmunk Klantenservice
Like SNDEEPINFO, there is a different tool, particularly chipmunks Klantenservice. It is a dutch website and a third-party means to determine how old is my iphone.
Visit: SNDEEPINFO
Similar to SNDEEPINFO, Chipmunk Klantenservice utilizes serial numbers to see how old your iPhone device is.

All you require is to get out the serial number and you can also check how old is your iPhone.
Firstly, open the Chipmunk website, enter

 your iPhone's serial number in the text input field, and click on the 

"Laat de information zien"

button as shown in the below image.
Visit: Chipmunk Klantenservice
On the resulting page, you can see the device production time and production week, and whereby you can discover precisely how old your iPhone is and its age.
See Also: 7 Best iOS Emulators for Mac | App Development & Testing
Using SNDeep.info
This method is best and quick too. It helps to get an overview of the iPhone specification even without unboxing your phone. So let's see how it works. 
Step 1
Open this website – SNDeep.info in a browser.
Step 2
Choose Apple as a device.
Step 3
You can also use your iPhone IMEI number ) and click on "show info. " The next page will display different information for the given serial number, including the model name, manufacturing year, and age. You can also review the technical stipulations of your phone there on the same page. This allows to know how old is my iPhone?
See Also: Top 5 ways to Fix iPhone Not showing Up in iTunes Error
Using Serial Number
This is the easiest and standard method that doesn't require any outside tools and websites. All you need Serial Number knowledge and Interpretation. The serial number is the combination of alphabets and numbers that gives you information about the manufactured date, time, place, and model number. So just by seeing the serial number of your cell, you can find out "How Old Is My iPhone" and its age.
Apple iPhone Serial number has 12 characters in it where every character denotes specific fields. Out of 12 characters, the 4th character gives information about the manufactured year. Please find out the fourth character from your iPhone serial number and compare it with the below listings.
K – 2013 (First Half)
L – 2013 (Second Half)
M – 2014 (First Half)
N – 2014 (Second Half)
P- 2015 (First Half)
Q- 2015 (Second Half)
R- 2016 (First Half)
S- 2016 (Second Half)
T- 2017 (First Half)
V- 2017 (Second Half)
W- 2018 (First Half)
X- 2018 (Second Half)
Y- 2019 (First Half)
Using Software
Another option to check the age of your phone is by using the software. CoconutBattery is a Mac app that enables you also to view your iPhone and iPad details. So, to use this app, you need to install it on your Mac or MacBook. As such, this option is only suitable for iPhone users that also have a Mac or MacBook. Here are the exact steps:
Install the Mac app 'CoconutBattery' from the website of the developer. Keep in mind that it is a Mac app, so you cannot install it on your Phone.

Launch the app. The Mac tab shows the statistics of your Mac.
Connect your phone with a cable. The app will now also show you statistics from your iDevice.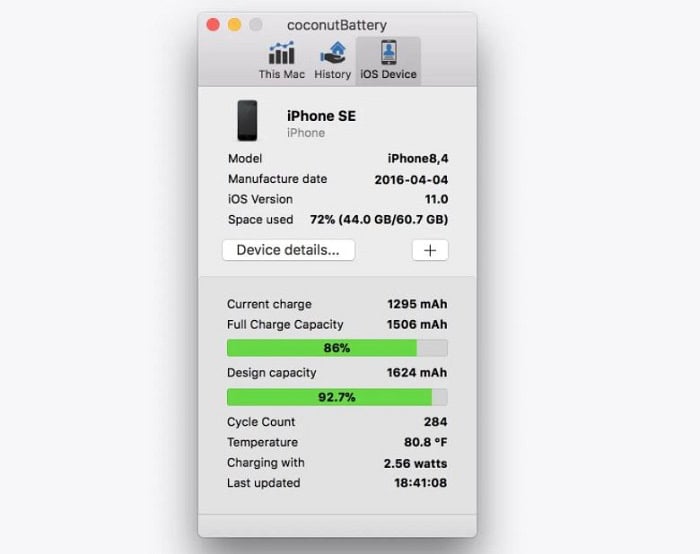 Click the "Device details …" to view all your iPhone's details, including model, manufacture date, age, serial, processor, and charger.
Visit: Coconut Battery
If you are a Mac user, this option is convenient. It lets you see at a glance how old the iPhone is and other potentially valuable pieces of information.
See Also: 10 WiFi Hack Apps For iPhone And iOS Devices [2021]