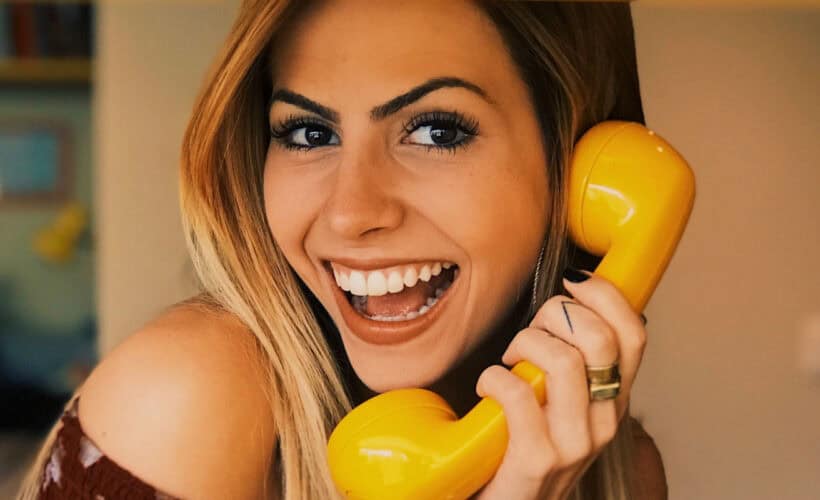 Finding methods to reduce mental stress is crucial nowadays since life is stressful. Prank calls may be a lot of fun to make with your buddies. Numerous free fake call websites are available. Many drawbacks also follow the several benefits of a prank call. You may use these fake calls against anyone.
Some Hoax call websites are
Prank Dial
Comedy Calls
Prank Hotline
Spoof Box
Prank Caller
Ownage Pranks
Blow up the Phone
Boomrang
In this article, you'll learn the Top 9 fake call websites you can use to have fun with your friends. This list of the best nine fake call websites that can support Prank calls explains the related technicalities. You can compare these websites' pros, cons, flexibility, and limitations to select the best one. So, without any further delay, let's get started.
Top Fake Call Websites For Fun
Here are the nine best fake call websites for doing pranks and having fun with your buddies.
PrankDial
A wide variety of pranks are available to PrankDial's users. Choose and share a joke with your friends and family for fun. One only has to enter his friend's phone number and an alias number with a country code to play any of the jokes, which are all completely free. Sending any anonymous prank call requires recording the call.
Search and browse its enormous collection of entertaining clips to find pranks, then email them to your pals. You can enjoy yourself and even chuckle at their responses. Users may also access additional calling options by purchasing or earning tokens, including video calling, ad-free calling, and prank history.
Visit: PrankDial
See also: 5 Best Fake Tweet Generator Tools In 2023
Prankowl
Prankowl is another service that provides free prank calls. Like PrankDial, Prankowl has several unique features, including forcing two random individuals to contact each other for free, limiting the number of calls you can make at once, and hiding your caller ID from your buddies. As a result, your phone number will appear as any other number you choose or as an unknown number.
Prankowl provides extra features you may purchase with tokens, such as calling from more countries, a custom green name, ad-free calling, and greater call priority. Enjoy yourself, laugh, and watch how your spam call prank is received.
Comedy Calls
Comedy Calls is another free prank-call website that belongs on this list. This website aims to make people laugh and avoid bothersome calls that can disturb them. Various humorous calls are available from Comedy Calls and may be sent to anybody. It is easy to use this website.
The well-known RickRoll prank call does exactly what its name suggests—RickRolls your buddies. Additionally, you'll enjoy the Phone Pranks section if you seek other methods to irritate your buddies.
You can check the service in advance for free. Only if you're satisfied and enjoy it can the site's credits be used to make more prank calls.
Visit: Comedy Calls
See also: Top 7 Free Facebook Proxy Sites To Unblock Facebook
Spoof Box
For those unfamiliar with the bizarre cultural cliché, a "Karen" is a self-centered middle-aged lady who always gets upset when things don't go her way. Do you want a call from a prankster named Karen to disturb your friends? If this interests you, you should go with The Entitled Lady scenario of the Spoof Box.
Additionally, Spoof Box features an interactive option that enables you to communicate with your target, unlike the earlier Prank call websites. Making group prank calls is also possible if fooling just one person isn't enough.
Additionally, it features a capability that can mask your phone number with a phony one. These characteristics make Spoof Box a distinctive choice for making amusing prank calls.
Visit: Spoof Box
Wacky Prank Calls
Another fake call website with many prank calls is Wacky Prank Calls. Wacky Prank Calls offers a unique feature that gives you a specific number to call from your phone rather than requiring you to dial any numbers from the internet.
To place the prank call, input the victim's number and follow the IVR prompts. Wacky Prank Calls will handle the remaining tasks. There is no software to download to use this tool.
See also: 8 Ideal Video Sharing Apps For Content Creators In 2023
Genie Calls
Genie Calls is One of the well-known fake call websites. You may make spoof and group prank calls, just like Spoof Box. You may choose from various call recordings once you get to the homepage.
Click the little Call symbol on the scenario's thumbnail after you've found the one you want to utilize. In the following box, you can select a straightforward prank call, a group call, or a spoof call in which your actual number is hidden behind a phony one.
Prank Hotline
Prank Hotline offers three free prank calls. Following that, you will require to pay for the services. There are several options for practical jokes. Choose the one you choose, then select the Send This Prank button. Enter your recipient's phone number on the next screen. Additionally, if you'd want to send a Prank call from the wrong number, you may put it here.
Select the Send This Prank Call Button to place a call on your screen. The website also provides exciting premium features and additional calls you can purchase with the site's tokens. To do that, you must first register on the website for an account.
Spoof My Phone
The website Spoof My Phone, another well-known online prank call source, will use a fake phone number to contact you. You may pass as someone else by using this service by utilizing whatever phone number you like.
Spoof My Phone offers several features ranging from adding sound effects, spoofing on a group call, and a lot more similar to the above-mentioned fake call websites. But in contrast to other websites, it provides two more features: the ability to record and a voice changer.
You can also record your customized message if you don't want to use a random, already recorded one. The audio that you record will be sent as a call. Another feature offered is voice changing. You have the option of switching between a male and a female voice. Therefore, you may use the voice changer to modify your voice throughout the conversation to conceal your identity further.
Visit: Spoof My Phone
Prank Call Nation
Prank Call Nation is one of the most popular fake call websites and is intended for people in the US and Canada.
It gives customers access to a sizable database of prank calls and clippings. Before placing a prank call to a buddy, the website outlines each so you can decide which call to make to which type of individual.
Visit: Prank Call Nation
FAQs
What does a 403 on a prank call mean?
Even though Code 403, which means 'forbidden,' is less often, most regular Web users have encountered it. The official definition provided by the World Wide Web Consortium is 'The server understands the request but is refusing to fulfill it.' In most cases, it denotes that the material is present but not accessible to the user.
Is * 67 still functional?
On smartphones, entering *67 works, but you must do it each time you dial a number. The Android or iOS device settings provided by most cellular carriers allow you to prevent your number from being used for incoming calls.
How do you handle prank phone calls?
Call your local law enforcement agency immediately to report prank calls threatening you, your business, or your staff with violence.
Can someone clone your phone?
Your communications are essentially hacked when someone copies your phone. This implies it will send fewer calls and SMS to you than normal. Calling your phone number from friends and relatives is the easiest approach to test this technique.
Conclusion 
You must have found all of these websites interesting and would surely like to try them out. Have fun pulling jokes on your loved ones but remember to be ethical. Get ready to surprise your family and friends with a unique and fun prank. Let's get calling! The Top 9 fake call websites have been presented in detail, and you must choose the one that suits your needs.
See also: 6 Best Websites To Generate Fake Airline Tickets
Sourabh Kulesh, Chief Sub Editor at Gadgets 360. and TechiePlus, writes technology news online with expertise on cybersecurity and consumer technology.