If you are looking for the best of the best email app for chromebook, then your search ends here. After experimenting with different Chromebook email apps built, I listed the top 6 best email app and eliminated the bad ones who have issues. According to your test, you may choose which one of the best email client for chromebook suits you the best, and I recommend you try these out before reaching any decision.
See Also Do This If You Are Not Getting Emails On IPhone [Full Guide]
Top 6 Email Client For Chromebook
Let's look at the 6 best email client for Chromebook
Outlook By Microsoft
We are familiar with the name Microsoft, and if you ever touched a windows PC, you have probably come across Outlook. It has one of the best-looking inboxes, a very clean and easy-to-understand layout. Compared to Gmail, its loading time is very fast. Fetching emails is not an issue here, and I never had any issues like composing, sending, or viewing any emails. Also, in Outlook, we can easily import and sync our contacts. The best feature of Outlook is that it has the ability to connect all your different email accounts into one central location. Apart from this, it also had exclusive integration with other 3rd party apps. To access Outlook, one must have a Microsoft account of Office 365 Suit. This is one of the best email app for chromebook available in the store.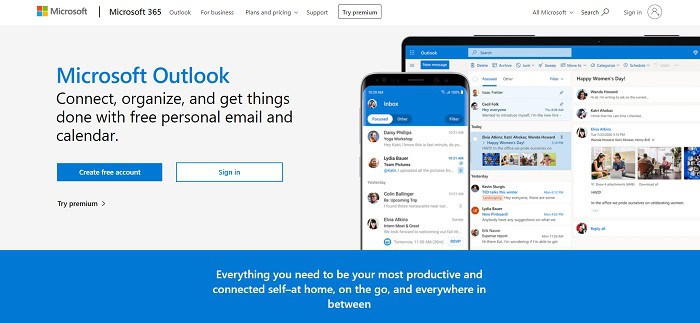 Visit: Outlook
Gmail By Google
It's been 15 years, and Gmail is still served as one of the best email client for chromebook for everyone. It is the most used platform to date. You can use tags for sorting messages, also easy to use multiple accounts from one interface. Gmail also has a strong spam filter that protects you from fraud. Plus, Gmail has so many integrations like Google Docs, Sheets, Slides, Forms, and calendar; all of these make Gmail an excellent choice above all other email clients out there. With every Gmail account, you get 15Gb Google drive storage available at free and photo backup options using Google Photos. At Google, your data is safeguarded via various encryptions and stays protected. It has been serving as one of the best email clients for chromebook for the last 15 years.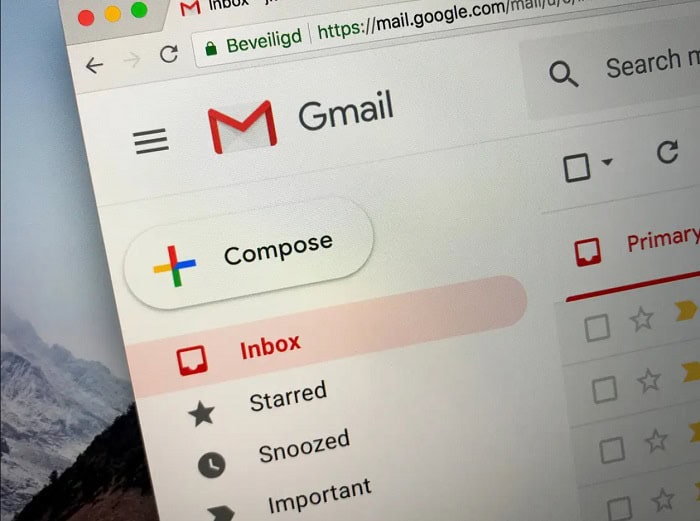 Visit: Gmail
Thunderbird
It is an open-source email client for chromebook service mainly focused on privacy. A subsidiary of the Mozilla Foundation develops it. The main aim is to provide a secure and efficient email client service for personal use. As privacy is the main concern here, it can detect any phishing attempts and then warns you whenever you are about to click on any suspicious links, emails, etc. As it's open-source, anyone is free to Customize the app according to their test. The only downside is that it lacks mobile apps support.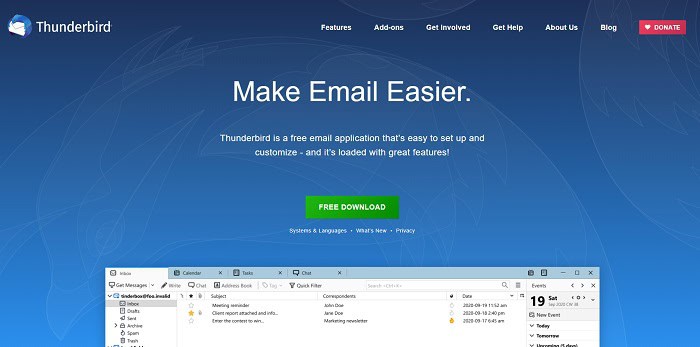 Visit: Thunderbird
Boomerang For Gmail
Next, we have for Marketing professionals, but it can also be used for personal casual work. In Boomerang, you can do some things that you never imagined were possible with Gmail. Like, you can schedule your emails that are needed to be sent and sent later time or date. Compose your mail, schedule it, and Boomerang will send it to you automatically. Isn't it great? Also, it is perfect for managing tons of emails and sorting and organizing them. Another excellent feature about this app is that it has an AI robot that can guide you to write more compelling emails.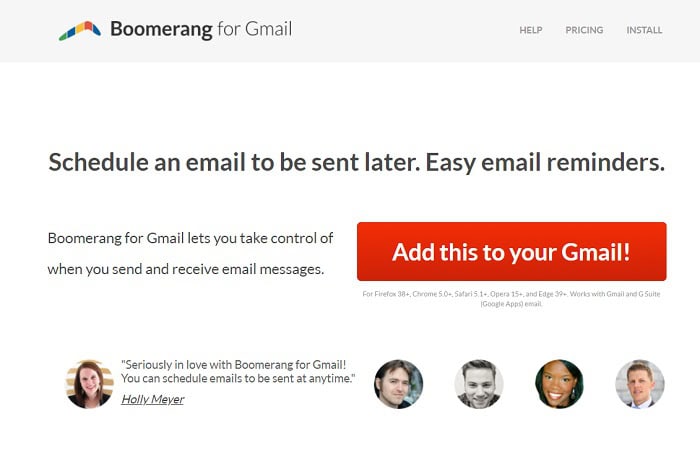 Visit: Boomerang
Spike
Spike can transform your email inbox into a feature-rich workspace. It looks less like an email client for chromebook and more like a messaging app like WhatsApp. If that's your test, then you will love it. So here, you can have a real-time chat experience with your email. Apart from this, Spike offers a Built-in Notes app which is great for small team projects. This is another one of the best email app for chromebook.
Visit: Spike
Front
Finally, it's for the teams who need to collaborate on a larger scale, where high volumes of emails are involved; the Front is the best email client for them to use. It's not for personal email or small volume communication. For these, it's overkill. However, if you have lots of emails that you can handle, then Front comes to rescue you. It is used to manage team inboxes; the best feature is its ability to show different teammates inboxes in a single window. You can jump to a team member's inbox and respond to a message if it's meant for you. Also, in Front, one can assign messages to other teammates, cutting the hassle of forwarding and all. Apart from all this, Front gives you the option to chat with team members within the app. This frees up space for chat apps.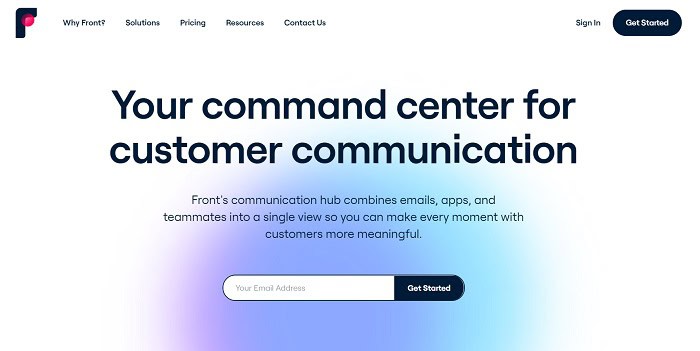 Finally, the Front has many features like automated emails and has an extensive list of integrations. This is certainly one of the best chromebook email client out there in the market. If you want to make your work even more easy, then check this article on how to draft and drop on Chromebook.
Visit: Front
See Also: How To Test Microphone On Chromebook? Easy Step-By-Step Guide
Sourabh Kulesh is a Chief Sub Editor at TechiePlus. He has worked in a national daily newspaper, a news agency, a magazine and now writing technology news online. He has knowledge on a wide gamut of topics related to cybersecurity, enterprise and consumer technology.