Players have been captivated by World of Warcraft (WoW) for more than ten years.With millions of players worldwide, the game offers a large world full of never-ending quests, boss battles, and adventures. Nonetheless, the boss battles in World of Warcraft can be very difficult, especially for novice players or those unfamiliar with the rules of each encounter. Developers have developed a variety of kodi addon's  and third-party solutions to assist players in overcoming these obstacles, including Deadly Boss Mods (DBM).
To help WoW players during boss battles, there is an Add-On called Deadly Boss Mods. The AddOn has several features that can assist players in keeping on top of the game's dynamics and avert deadly errors, such as alarms, notifications, and customisation options. DBM can assist players in understanding more about the game's mechanics and enhance their overall performance in WoW by giving them comprehensive information about each encounter.
We will examine the features and advantages of the AddOn in more detail, along with its installation and configuration procedures. Whether you're an avid raider or a casual player, DBM is a crucial tool enabling you to prevail in even the most difficult situations. Lets start learning everything there is to know about Deadly Boss Mods. 
Deadly Boss Mods: What Are They?
A WoW add-on name Deadly Boss Mods is made to give players crucial information during boss battles. When bosses are frequently quite difficult to defeat in raiding, this AddOn is especially helpful for players. To obtain the best treasure and test their mettle against the game's most challenging content, many WoW players look to give their characters a mythic 20 boost. Players can use the many alerts and notifications that DBM offers to know when a boss is going to make a risky move, when they should get out of the way, or when they should concentrate their attacks on a particular target.

DBM is made to function with every boss encounter in the game, from the easiest dungeon monsters to the trickiest raid bosses. It alerts players for mechanics like timers, boss abilities, and phases. Also, it can assist players with some boss mechanics, such as the necessity of location or the capacity to disrupt spells.
Deadly Boss Mods: How do they operate?
By keeping an eye on the game's combat logs, Deadly Boss Mods uses this data to send players messages and alerts. These alerts are created to be simple to read and comprehend, and they sometimes come with visual signals like flashing lights or warning signs.
DBM uses a mix of audio and visual cues to draw players' attention to particular game aspects. For instance, DBM may play a loud sound effect to alert players to move out of the way when a boss is about to execute a risky maneuver.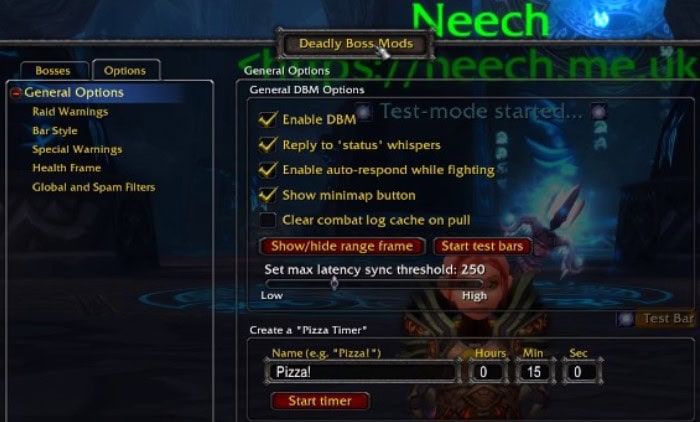 Similarly, DBM may provide a visual message on the player's screen to notify them when a boss is ready to enter a new phase.
Offering players personalized alerts is one of DBM's most practical features. The configuration options in DBM allow users to configure alerts for particular mechanics and change their frequency or volume. Thanks to this personalization, players can personalize their experience to suit their interests, which guarantees that they only receive pertinent alerts.
See Also: Best Multiplayer Games For Android Via Wifi [Must Play]
Why are Deadly Boss Mods crucial to World of Warcraft players?
For WoW players, especially those who take part in raiding or other end-game activities, Deadly Boss Mods is a crucial tool. Even the most seasoned gamers occasionally find defeating the game's boss confrontations difficult. DBM equips players with the knowledge they require for success. It enables them to react swiftly to risky mechanics and choose their course of action with knowledge.
One of the biggest benefits of adopting DBM is that it can assist players in avoiding catastrophic errors. Players can escape threats by being aware of them in advance thanks to DBM. It allows them to do so and preserve their character's life. This can be crucial in high-stakes battles because one loss can spell the end of the conflict.
DBM has the additional benefit of assisting players in increasing the amount of damage they deal. Players frequently need to target particular targets with their attacks or use particular abilities at particular moments during boss battles. DBM can assist players in seeing these chances and ensuring they take full advantage of them.

Players can contribute more to the battle and aid in the success of their squad by doing this.
DBM can assist players in learning more about the game's mechanics and enhancing their grasp of the game by giving them specific information about boss fights. Players may then improve their skills in the game and advance through the content more swiftly.
For any WoW player who wishes to be successful in end-game content, Deadly Boss Mods is a crucial tool. Its extensive feature set and customisable settings make it a flexible product.
Its wide variety of features and customisation possibilities make it a flexible. It is a useful tool that can assist gamers in getting through even the most difficult boss encounters.
Here are Top 5 Best Games For PC With 8gb Ram And 4gb Graphics | 2023
How to Set Up Deadly Boss Modifications
The process of installing Deadly Boss Mods is easy. Start by performing the following actions:
In your WoW AddOns folder, extract the downloaded file. This folder's default location is: Windows: C:\Program Files (x86)\World of Warcraft_retail_\Interface\AddOns Mac: /Applications/World of Warcraft/retail/Interface/AddOns/
To activate it, select the checkbox next to Deadly Boss Mods. With the in-game options menu, customize the AddOn to your liking.When you have Deadly Boss Mods loaded, it will automatically turn on anytime you start a boss battle. By entering "/dbm" in the chat box, you may reach the settings menu. Where you can modify the alerts and notifications provided by the AddOn.
Also, check out games to improve your reaction time.
FAQs
What are Deadly Boss Mods?
World of Warcraft add-on called Deadly Boss Mods gives players access to vital information during boss battles. The AddOn has a number of features that can assist players in keeping on top of the game's dynamics and avert deadly errors, such as alarms, notifications, and customisation options
How do Deadly Boss Mods function?
Deadly Boss Mods give players details about each boss encounter in World of Warcraft. The AddOn informs players of crucial mechanics, such as when to leave dangerous regions or halt a boss' abilities. Timer and countdown features are also provided by the AddOn. This aids players in timing their use of special powers and coordinating with other players during combat.
Are Deadly Boss Mods required to play World of Warcraft?
The Deadly Boss Mods are not required to play World of Warcraft, to be honest. For players new to the game or unfamiliar with the mechanics of each boss fight, the AddOn can be quite beneficial. DBM can assist players in learning more about the game and enhance their overall performance by giving them precise information.
Is it acceptable to use Deadly Boss Mods in World of Warcraft?
Deadly Boss Mods is an authorised World of Warcraft AddOn. The game's developer, Blizzard, has said that players are welcome to use AddOns if they don't contradict the terms of service or offer other players an unfair advantage.
Conclusion
A strong tool that gives WoW players access to crucial information during boss battles is called Deadly Boss Modifications. It has a variety of features, such as alerts, notifications, and customisation choices. It is a useful and adaptable tool that can aid gamers in overcoming even the most difficult challenges. 
Every WoW player should have Deadly Boss Mods in their toolbox. Whether they are a casual player who likes to run dungeons or dedicated raider who takes on the hardest content. DBM can assist players in maximising their performance, averting fatal errors. It helps move through the game's material more rapidly by giving them the information they need to succeed.
Meet Carrie-Ann Skinner, our Apps & Games Editor with over 2 decades of experience in online and print journalism, specializing in all things tech.