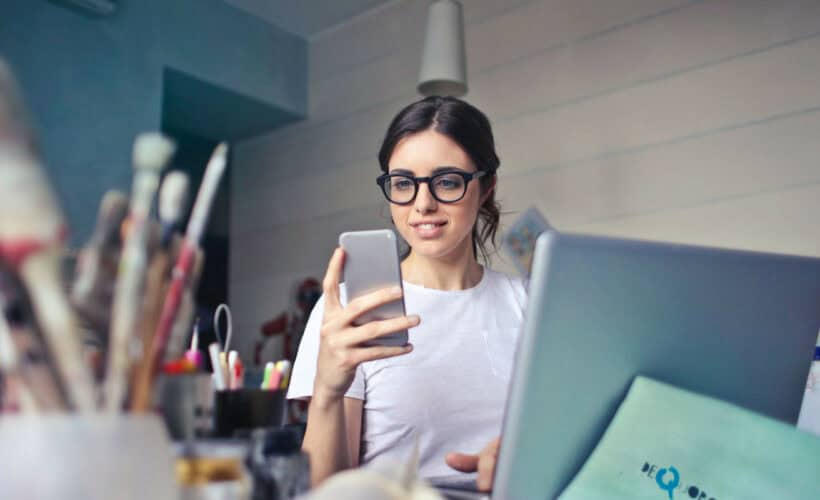 Call tracking software is automation that records source, geographical location, time distribution, and proper call recording.
The main objective of call tracking software is to review the performance of advertising or a particular employee. However, the main aim of the call recording is to maintain a marketing campaign that serves the purpose of any specific business or company through the software listed below.
This software resolves issues, such as customer analysis, interaction, concerns, attributions, etc. It also helps track the employer's performance and record with customers. Some software also assists with the customer's transcription and tracking systems, thereby analyzing their response.
See Also: Android Do Not Disturb Not Working? Easy Steps To Fix It Instantly
Top 6 Call Tracking Software Available for Windows 
Let's look at this call-tracking software that is easy to use for Windows. Also, these would increase one's sales and are an easy-to-use tool for learning. The best six call tracking software are as follows. These tools will help your company, small or big, to set up excellent business communication with the customers.
Cloud Talk
The main feature of this call tracking software is that one can record the calls and access them through Windows with the help of an internet browser. The processing of call recordings is also hassle-free.
Also, the advantage is giving the manager an understating of the person on the other side of the call. One can also improvise their services through such software, analyzing it in several steps.
See Also: The Top 6 Best Anonymous Voice Chat Apps in 2023
Call Tracking Pro
This call-tracking software provides a more extensive option for system administration, such as Virtual, Basic, Essential, Advanced, and Complete, where the management tool allows one to monitor and transfer calls with an appealing interface. Face-to-face video conference is also a unique feature added to this software.
Apart from this, one can check the detailed report on the website through insights such as interaction history and response times. The critical feature is alternate routing, which works when no server and all the devices at a specific location collapse. An additional feature that adds to this app is the queue call back.
For more information on the latest trends in call tracking and business communication solutions, click here to visit Gartner. Gartner provides valuable research and analysis in this field, helping businesses make informed decisions in the ever-evolving tech landscape.
Visit: Call Tracking Pro
Virtual PBX
A budget-friendly software that provides business communication by handling inbound calls. Several features include voicemail, auto-attendant, unlimited call handling, and call forwarding. It works on the automation of Voice over Internet Protocol, which the service provider virtually assists.
Ease of access with low cost with no hardware set-ups is an excellent asset for any company looking for call tracking software. Such call-tracking software is accessible through the Windows system, cell phone, or a landline. Call queuing, Conference bridging, and network reliability benefit small firms. However, several support options would assist you with your target customers.
Visit: Virtual PBX
Browse the Top 5 Furniture Designing Software You Have To Use NOW!
Call source
Generally, this software holds specific features for large businesses, namely, lead attribution, reputation management, call tracking, and giving out all necessary information to help the team monitor the results. This software also hosts automated response, a Telephone performance analysis tool to monitor staff representation and improvise their performance.
Customer service quality is top-notch as it ensures the automotive denial of call handlers. The pricing of this call tracking software is based on a monthly subscription of 199$, where a free trial is available. The perks of accessing such software are that training new employers in a company is easy.
Visit: Call Source
See Also: How to Transfer Contacts from Android to iPhone [Quick-fix methods]
Call Rail
The efficient workflow of call rails makes it reach wider among companies. Out-of-the-Box features include easy-track calls and forms, integration with several sales platforms, and pay-per-click. Such software upgrades the custom reports, calls, sources, keywords, etc., giving a large platform to the users.
This marketing channel increases the campaigns that bring more customers through business and generate revenue through them. Also, this call tracking software offers vast access to sites, Google ad words, and Google Analytics and optimizes customer analytics through their call recordings. Additional features such as Interactive Menus, Call Analytics Dashboard, Visitor Timeline, Call follow-up, etc., are also found in this software.
Visit: Call Rail
See Also: Wondering Why Is My LTE Not Working? Here Are 9 Solutions To It
Fluent Stream
Analytics, Auto-attendant, call recording, and Webphone are top-notch features this app provides. This call-tracking software works according to the company's priority and delivers up to 99.99% service uptime that works nearly every minute. The most comfortable platform that would provide exceptional service focused on elevating one's business and giving more marketing space to trust with.
The installation is easy, where the sales expertise collaborates with business communication with more positive results in fewer budgets. The instructions for your team personalize even the training of the new employees. Apart from this, one can install this call tracking software on their laptop, system, or mobile phone with a free trial of a month.
Visit: Fluent Stream 
FAQs
What is the most efficient way of keeping track of sales calls?
You can generally track sales calls using a CRM or call-tracking platform. To set up a call tracking platform, you must first find a system that suits and provides for all your business needs. You can use a tracking service to analyze call quality as well as for testing and strategizing for reaching your goals.
What does call tracking software do?
Call tracking generally helps determine how callers react to your business. It assesses customer reactions. Sales and marketing teams in a business generally use call tracking to compose phone calls into specific marketing channels. This software, therefore, quickly helps companies find out and analyze how their customers found their business as well as how they reacted.
Can you monitor a call?
Yes, monitoring a phone call is possible. Call monitoring is alternatively known as call logging or even quality monitoring. Generally, it is possible to monitor phone calls even without the knowledge of the caller or the receiver. They may also record for later use. Sometimes, you are notified of recording as businesses monitor their calls to see customer reactions.
How does call-tracking software work?
A call tracking software generally assigns a local number to the business phone line. Therefore, the linking forwards the call to the business line when the business calls a new or previously uncontacted phone number. Generally, the assigned line is previously tied to tracking technology. This allows the business to access caller information such as phone location and name.
What is RTM in a call center?
Most call centers use RTM or real-time monitoring. Real-time monitoring refers to tools and software that allows managers to track their agents' calls. They can also oversee any happening calls. You can generally use Real-time monitoring to monitor the performance of employees. It can help analyze the reaction of potential customers, which can help plan advertising campaigns too.
Conclusion
These are some of the best call-tracking software for increasing your sales in business. Also, these software are ideal to use for Windows. We'd like to hear about your experience if you use any tracking software.
See Also: 4 Best Driver Simulator Software To Use In 2023
Meet Carrie-Ann Skinner, our Apps & Games Editor with over 2 decades of experience in online and print journalism, specializing in all things tech.