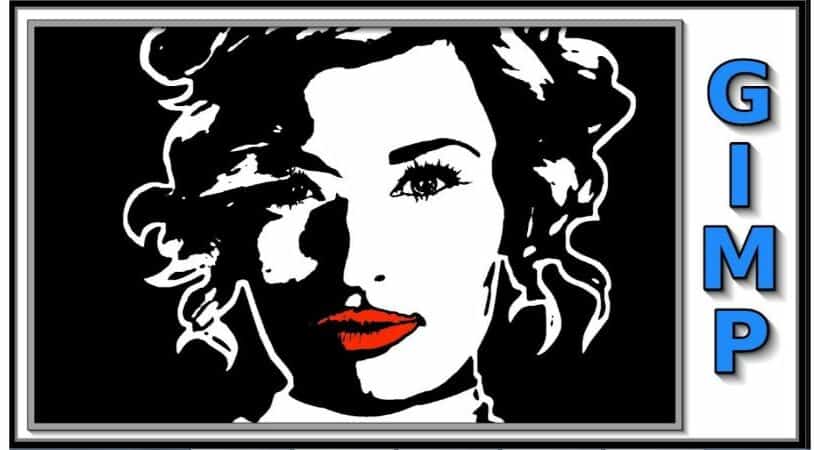 One of the most popular adjustments individuals make to their images, regardless of ability level, is turning an image black and white. Everybody, even specialists, must change photographs to black and white in GIMP.
Users of the open-source, free raster graphics editor GIMP have many options for converting color images to black and white. This article will discuss the differences between pictures that are in black and white and grayscale. We'll then cover some techniques for using GIMP to turn an RGB color image into a grayscale or black-and-white version. The best methods are the desaturate approach and the use of grayscale.
However, you must first decide if you want to convert an image to black and white or whether you just want to make it grayscale. The discussion in this session will go in-depth on both.
Difference Between Black And White And Grayscale
Users frequently mean to convert an image to grayscale when they claim to turn it black and white.
True black and white employ simply black and white, whereas grayscale uses a complete range of greys. Grayscale and black and white are distinct because black and white reduce an image to just two colors: black and white. No varying tones of grey.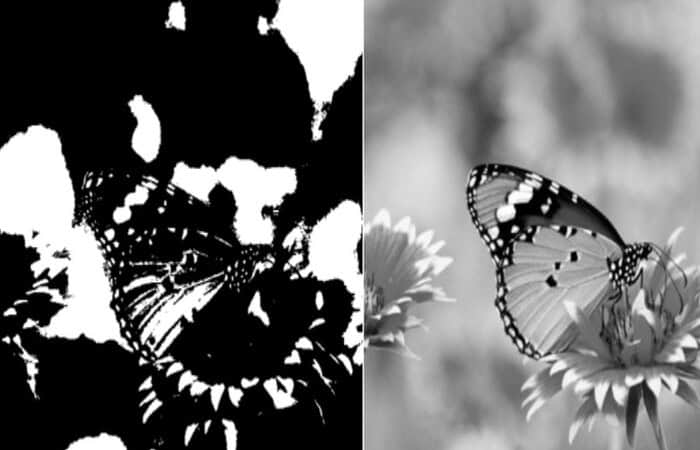 Contrarily, grayscale in GIMP makes use of a complete range of grayscale tones.
GIMP makes image black and white which simplifies things and makes it easy to transform your image into different things. The drawback is that low-contrast photos will make details and definitions difficult to see.
Grayscale aids in maintaining an image's definition and clarity but falls short of black and white's unmistakable simplicity.
How To Make An Image Black And White In GIMP
Although each method has its peculiarities, there are many ways in which GIMP convert Image to black and white. But if you want to crop your image, must try to crop in an illustrator.
You must select the approach that suits your situation the best.
Grayscale In GIMP
Because it modifies the mage's structure, this is the most basic type of grayscale Image. Most digital pictures are made in RGB mode, combining the Red, Green, and Blue channels to produce a full-color image.
When your Image is set in mode of grayscale in gimp, those three channels are combined into one stream and balanced against one another using the grayscale conversion technique built into GIMP.
Additionally, this implies that the visual is no longer able to hold any colour information.
Select grayscale under Image> Mode.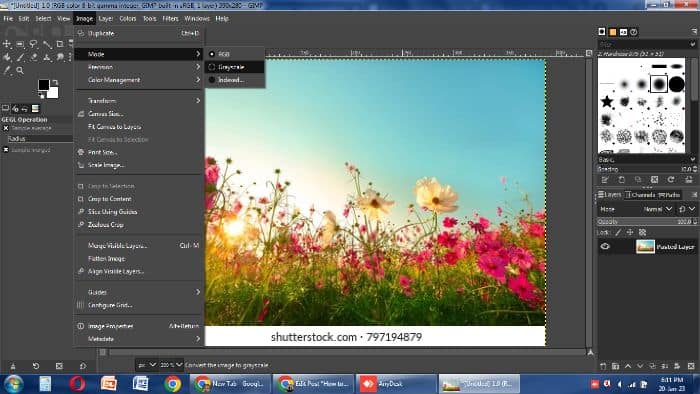 Now, the only colours present in your colour image are black, white, and grey.
It will not be possible to convert the picture back to colour after the alteration under grayscale. Create a backup of the colour image before you begin. Also, remember that even if you only select a portion of an image, changing the colour mode affects the entire Image.
See Also: 4 Quick Ways To Transfer Photos From Android To Mac | 2023
Desaturate Method In GIMP
With the exception of the fact that your Image remains in the RGB mode with three channels, this method is almost as quick as the grayscale method above. The Photo itself can still support colour even though all the pixels will turn to grey. It is a fast way to make an Image black and white.
This is helpful if you want your black-and-white Image to have a particular colour tint. Many well-known black-and-white films have a little hint of color, which can significantly alter the atmosphere of the Image without actually adding much colour.
Select colors. In the drop-down menu, select desaturate and again desaturate from the pop-down menu.
Try several settings from the Mode drop-down menu, such as Luminance, Luma, Lightness, Average, and Value. Check the Split view box to contrast the original with the desaturated version.
Click OK when you're happy with the outcomes.
Threshold Filter In Gimp To Make Image Black And White
If you want to create a true GIMP convert to a black and white Image in which the only colour options are black and white, you should follow this procedure.
Slide the arrow left and right to change the threshold to your liking.(You should immediately notice a difference in how you look. The technology will eliminate all colour information and use the contrast of your Image to decide itself what needs to convert into black and what needs to convert into white.)

When you have the Threshold set to your preference using the Channel slider, press OK to save the adjustments.
Using a threshold, you may reduce a grayscale image to black and white.
Applying a threshold only affects the layer that is now active. The same is true for selections; if you enable a selection, the threshold adjustment will only apply to that particular selection.
See Also: 9 Best Instagram Caption Generator Apps For Android And IOS
Removing Saturation
You can convert an image to grayscale with GIMP more quickly and easily by reducing the saturation of the image's colours.
All that is left to do is slide the Scale lever all the way to the left to eliminate the colour data. The colours gets eliminated from your Image as you proceed.
To apply your changes, click OK.
The advantage of choosing this option is that you can still retain the ability to deal with color in other parts of the Image. If you choose this option, the modifications will only be made to the layer that you have chosen and only if a selection is enabled.
You may make sure that none of your options are enabled by using the keys Control, Shift, and A on your keyboard.
See Also: Top 7 Ways To Upload Pictures On Pinterest | Complete Guide
Mono Mixer
How to make an image grayscale in GIMP? The instructions below will show you how to convert a color image to grayscale using GIMP's Mono Mixer tool:
Mono Mixer > Colors > Desaturate > Mono Mixer . (Alternatively, use the right mouse button to get the same menu selections.) The color image has changed to grayscale if the Preview checkbox is selected.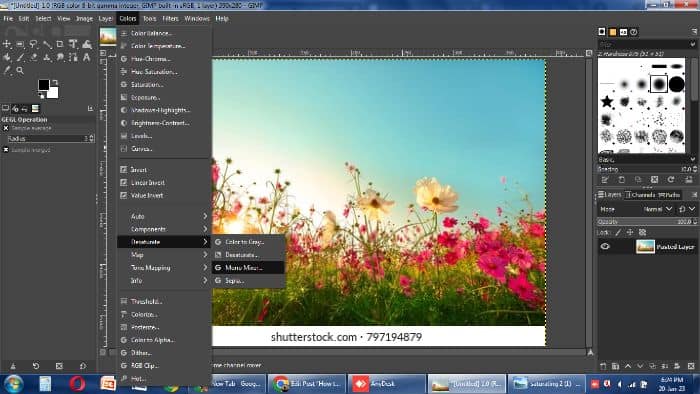 Each color channel's default value is 0.333. Play around with adjusting the ratios for a few of the channels.
The red channel multiplier has been set to 1.826 in the example below, the green channel multiplier to "0.930", and the blue channel multiplier to "0.686."
No matter what adjustments you apply to the channel mixer, the luminance will remain constant if you check the "Preserve luminosity box."
Hue Saturation
Another method for creating a grayscale image in GIMP is to use the Hue-Saturation tool.
The hue-Saturation option will be under the colours.  To convert an image to grayscale, set saturation to -100 or slide the slider to the left.
Select OK.
FAQs
How can I turn a layer using GIMP into black and white?
By switching the document's colour mode to grayscale, you can use GIMP to convert a colour image to black and white. Go to Image> Mode > grayscale to accomplish this. Changing the colour mode of the complete file is the first step in turning your Image in GIMP to grayscale.
How can I make a picture monochrome?
Go to Image Converter Tool - Super Tool > Black & White to Color in Photos. Put your photo online. Select Custom Color swath by clicking. Choose (or enter) 'black.' Save your picture.
How can you make everything but one hue desaturated?
The Hue and Saturation Correction Layer is used to desaturate all colours except for one. Make a Hue and Saturation Adjustment Layer by selecting it from the new Adjustment Layer icon. From the properties panel, the on-image adjustment tool can be activated. Next, click the colour you want to choose.
Do you prefer monochromatic to grayscale?
For instance, choosing the monochrome setting or purchasing a monochrome printer is ideal if you mostly print the black and white text. Because of this setting's capacity to produce a variety of contrasting hues and finer details, grayscale printing is preferable for black-and-white photographs.
Conclusion
Once you know the distinctions between real black and white and grayscale, you can easily switch an image to black and white in GIMP. Whatever method you choose, you're rarely more than a few clicks away from achieving this work. Just a few moments need to finish this. But ensure that you know the distinction between grayscale and black and white. There were also numerous questions related to the issues of the individuals that have been responded to. Read this blog on picwish review if it is the best photo editor or not.
See Also: 8 Ideal Video Sharing Apps For Content Creators In 2023
Meet Nick Pino, our Senior Editor of Home Entertainment at TechiePlus, covering TVs, headphones, speakers, video games, VR, and streaming devices.