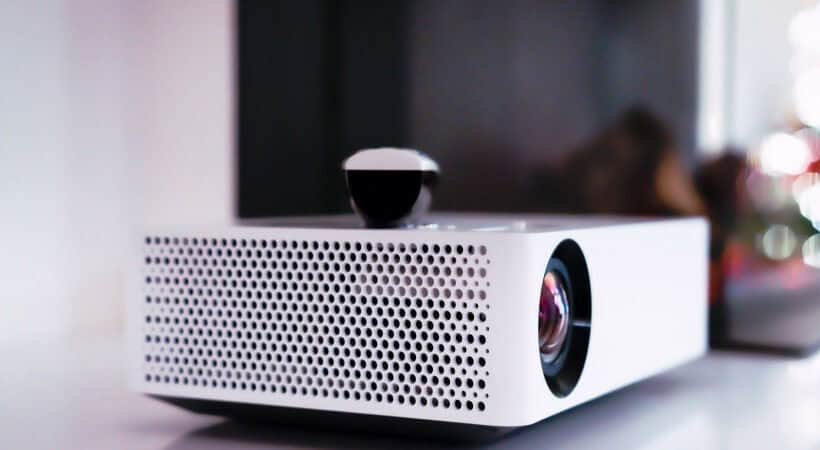 Projectors have become an indispensable part of our lives, professionally or personally. They help in visualizing our ideas and graphics. Whether making a movie night successful or your corporate presentation in front of your boss and colleagues, projectors play a huge role. But how do you know which one is the best for you? Something that is under $300? This article will list the best projectors under 300 to best suit your needs.
The best projectors under 300 you can get are- Yaber, ViewSonic, EPSON, and Vankyo. Given the price, you will get amazing features and controls from these projectors. The developments and competition in this market have produced many cool and efficient projectors to cater to your expectations.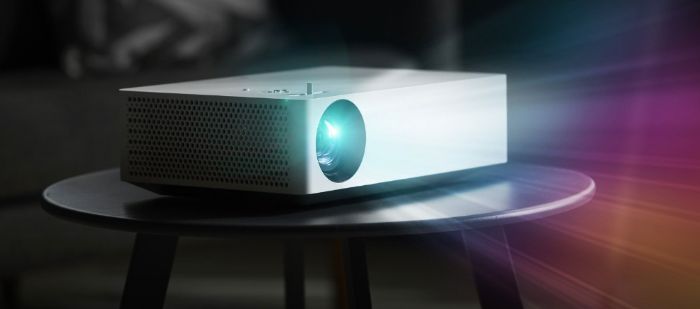 Many improvements in these devices, like weight, design, display quality, and countless others, compel people to use them extensively. Indoors, outdoors, in classrooms or auditoriums, in 2022, they are demanded more than ever. Even within $300, you have a bunch of great options of projectors to choose from. 
List of projectors under 300
Comparing the different features, controls, speed, and agility, we have sifted through plenty of projectors to list the following. They cover various actions and give you a brilliant experience from their use. We have also mentioned their cons along with their pros to give you a more realistic idea of these projectors. 
Yaber native 1080p Projector
The Yaber native projector is the most highly demanded and one of the best projectors under 300. They work great for smaller spaces like gaming rooms due to their compact shape and design. This is an incredible option as the best home theater projector under 300. 
This Projector can display crisp picture quality with 8500 lumens and free adjustment of the projection size. The resolution frame can range from 50 to 300 inches on the surface . Its remote enables you to change its trapezoidal dimension to set an accurate projection range from it to the screen. 
| PROS | CONS |
| --- | --- |
| Brilliant cooling system: 3 fans to cool down the main unit | Corners get blurry when trapezoidal adjustment is too much  |
| Flexibility: 50-degree adjustment | Fan noises increase with the brightness level |
| Keystone correction up to 4D | |
See Also: 10 Best 4K Monitor For PS4 Pro | 2022
Buy: Yaber native 1080p
ViewSonic PA503S
Portable and with 3800 lumens brightness, the ViewSonic is an excellent option for a projector in both dark and daylight. Its vertical keystone correction can help you cancel out any distortion in the projection. The brightness and colors are as meticulous as they can get. The ViewSonic projector also presents a 3-year warranty, with a year warranty for its lamp. 

The Viewsonic is an energy-efficient projector despite offering a lamp life of 15000 hours and all other features, making it in the list of best projectors under 300. As the manufacturers are trying to be more environmentally conscious, many customers opt for this, not to mention its established brand name. 
| PROS | CONS |
| --- | --- |
| Energy-conserving  | It does not come with Bluetooth or Wi-Fi |
| Multiple connection ports | The soft volume of its in-built speaker |
| Compact and small  | Chances of overheating |
| Impressive brightness levels | |
See Also: 6 Best Audio Enhancer Tools For Windows In 2022
Buy: ViewSonic PA503S
EPSON VS250
This is one of the best projectors under 300 that you can opt for, especially for work-oriented presentations. The Epson vs250 offers all the features that can display bright and clear pictures on a large screen, even from a distance. That is why it is ideal for environments such as an auditorium or a classroom, where you need to place the Projector far away.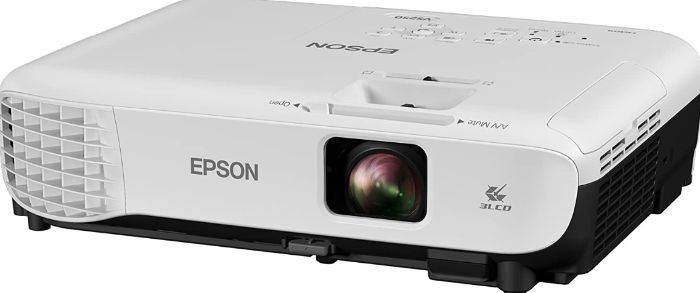 With 3200 lumens producing clear pictures to 98 inches, its full 3LCD technology enables speedy connection to other devices. An HDMI port can also connect the Projector to your gaming console or TV. The vs250 comes with a 3-year warranty period as well. 
| PROS | CONS |
| --- | --- |
| Accurate and vivid colour display  | No supporting audio port |
| Allows up to 350 inches of projected distance  | Supports Wi-Fi only with an external module |
| Great in bright rooms | |
See Also: How To Use Ipad As Second Monitor On Windows
Buy: EPSON VS250
ViewSonic M1 
This model is one of the best projectors under 300 because of its portability and compact design. Weighing less than 7 pounds, you can move around and adjust it at any angle. This feature can be very useful when you lack space to install a projector.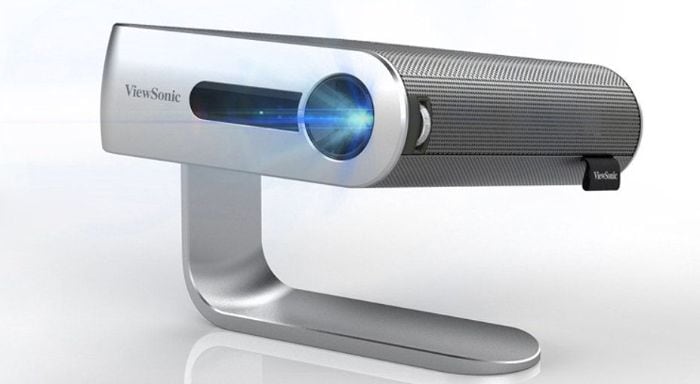 The ViewSonic m1 is compatible with 4k and full HD videos. The short throw ratio can display up to 100 inches even if it is 2 or 3 feet away from the screen. Its built-in Wi-Fi can help you use different online platforms. M1 also comprises 2 loud built-in speakers suitable for an average-sized room. If the room is large, you will need an external speaker to amplify the volume. 
| PROS | CONS |
| --- | --- |
| Easy to set up | No default remote |
| Brilliant speakers | No external battery |
| Compact; bag-friendly | |
Buy: ViewSonic M1 
Vankyo V600
This 1080p LED projector supports a resolution of 1920-by-1080. The 5000:1 contrast ratio produces clear, sharp, and detailed image quality, so you can watch videos in their best quality. The easy-to-follow interface makes it on the list of best projectors under 300 in 2022. Vankyo claims to be 80% brighter than many of its competitors.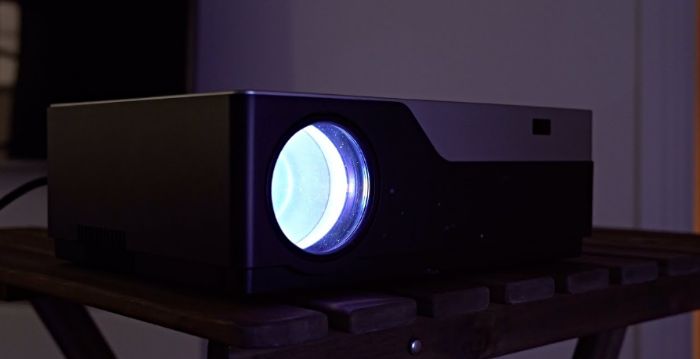 You can use this for up to 50000 hours because of its long-lasting and durable LED lamp. The 4500 lumens brightness is higher than many, enabling you to use this even in bright rooms, projecting at a distance of 50-300 inches. These make the Vankyo v600 one of the best projectors under 300. 
| PROS | CONS |
| --- | --- |
| Compatible with different inputs | Loud fanning |
| Long-lasting battery | |
| Allows streaming from multiple devices | |
Buy: Vankyo V600
FAQs
What is the point of a Projector?
A Projector is an optical tool or device that projects images/videos onto a surface like a white screen. Projectors nowadays have wide-ranging uses like watching a movie with family or making an important presentation in your work department. The recent ones can display images using lasers and are some of the best Projectors you can consider buying.
Which is better- a Projector or a TV?
It honestly depends on the quality of the Projectors. Many of them have a contrast ratio that is higher or even better than the ones displayed on an HD TV. Short-throw Projectors can fit in a small room, and you do not need a huge TV to enjoy good-quality pictures.
Is a screen compulsory for a Projector?
Not necessarily so. The Projector's job is to shine a light on a surface that reflects images or videos. The surface on which it shines is up to you really; it can be a white sheet or a wall, a semi-reflective surface. Remember that the clearer and whiter the surface is, the better you will have the projection quality.
Do Projectors use a lot of electricity?
Different Projectors average use somewhere from 150 watts to 800 watts per hour. If you want to go for the best Projectors, they will consume 300 watts of electricity in general. If calculated roughly, that charges you about 3 cents, or $0.03 every hour.
Conclusion
We have mentioned some of the best projectors under 300 that are available for you. Different features and pros and cons will help you choose the best affordable Projector to suit all your essential needs. Compare their brightness levels, contrast ratios, speakers, and many other factors to make the right choice for any atmosphere. Hopefully, this comprehensive list has assisted you!
See Also: Top 5 Effective IPhone Projector Apps Of 2022
Sourabh Kulesh is a Chief Sub Editor at TechiePlus. He has worked in a national daily newspaper, a news agency, a magazine and now writing technology news online. He has knowledge on a wide gamut of topics related to cybersecurity, enterprise and consumer technology.